---
Trump 'Needs To Be Shot': Democratic Lawmaker Quickly Backpedals During On-Air Tirade
The Ranking Democrat on the House Judiciary Subcommittee on the Weaponization of the Federal Government (Jim Jordan's panel) said on Sunday that former President Donald Trump should be "shot" for "having the classified information for Americans" at Mar-a-Lago.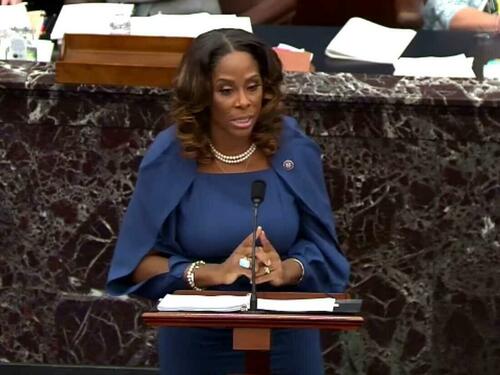 Del. Stacey Plaskett (D-VI), who in April threatened journalist Matt Taibbi with imprisonment over his "Twitter Files" testimony, was speaking to MSNBC about Trump's classified records case when she let the comment slip. She quickly corrected herself with "stopped," adding that Trump will "have his day in court."
Plaskett, who also called accusations that the Biden DOJ targeted concerned parents a "conspiracy theory," called the notion that Biden's FBI and DOJ follow a two-tiered system of justice nothing more than "propaganda."
Watch:
Del. Stacey Plaskett (D-Virgin Islands): "[Trump] needs to be shot— stopped." pic.twitter.com/E2nIzVJuwY

— Jake Schneider (@jacobkschneider) June 18, 2023
As Just the News notes, many wondered if it was a Freudian slip.
Quite the Freudian slip from Stacey Plaskett: Trump "needs to be shot— stopped."

pic.twitter.com/3VWNdFHQ9Q

— ALX 🇺🇸 (@alx) June 18, 2023
Dr. Freud would like a word. pic.twitter.com/mKnmSFhEFp

— Dave (@davespace_) June 18, 2023
@SpeakerMcCarthy are you going to do anything about this!!?

— #1Covefefegirl (@MelFarnwalt) June 18, 2023
She needs to be kicked off the committee she's serving on!! She's out of control!!

— Linda Thomas (@lindathomas102) June 18, 2023
Loading...