---
TSLA Beats Top- & Bottom-Line: Record Revenues As Margins Decline
The headline from TSLA's earnings tonight for Q2 2023 appear positive with top- and bottom-line beats:
*TESLA 2Q REV. $24.9B, EST. $24.51B

*TESLA 2Q ADJ EPS 91C, EST. 81C
That is a record revenue for TSLA...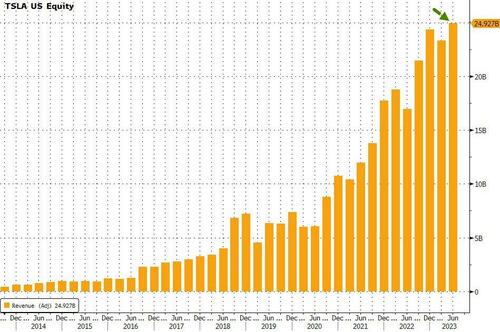 There was a big drop in regulatory credits this quarter - $282 million, down from $521 million in the prior quarter.
But free cash flow disappointed:
*TESLA 2Q FREE CASH FLOW $1.01B, EST. $2.18B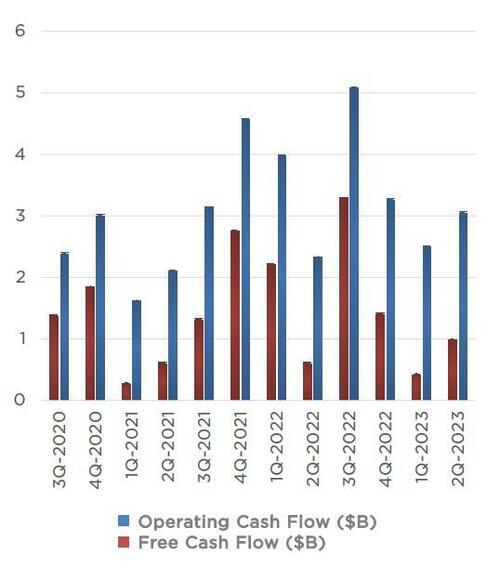 And margins declined disappointingly:
*TESLA 2Q GROSS MARGIN 18.2%, EST. 18.8%
Tesla attributes its gross margin and operating margin declines to:
price cuts

cost of ramping the new 4680 battery cells

cost of getting Cybertruck into production (as well as "AI and other large projects")

negative FX impact
The company said:
"Q2-2023 was a record quarter on many levels with our best-ever production and deliveries and revenue approaching $25B in a single quarter. We are excited that we were able to achieve such results given the macroeconomic environment we are currently in."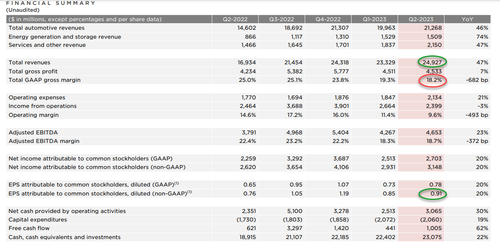 Revenue growth accelerated in Q2 (as margins declined)...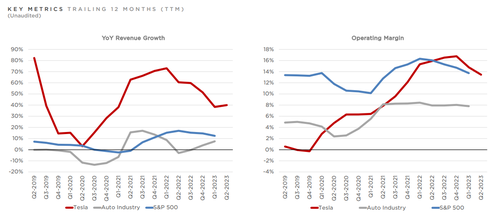 Tesla confirmed that it sees fiscal year production of 1.80 million vehicles (expectations are for 1.88 million)...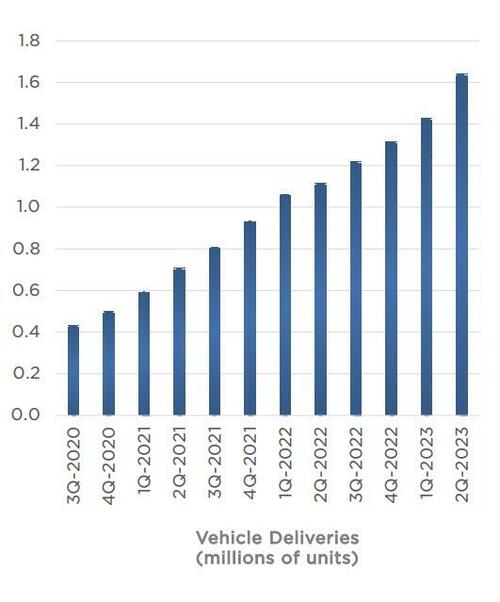 Tesla's share price is swinging around wildly after hours, up modestly as we print...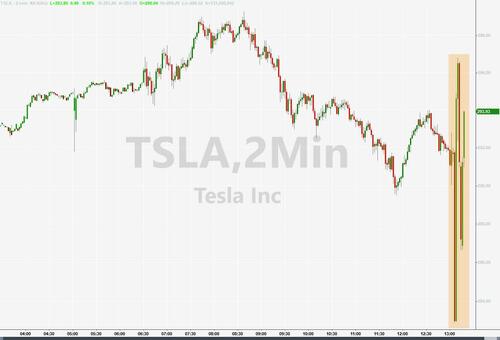 Finally, we note that Tesla says Cybertruck remains on track to begin initial production later this year at Gigafactory Texas.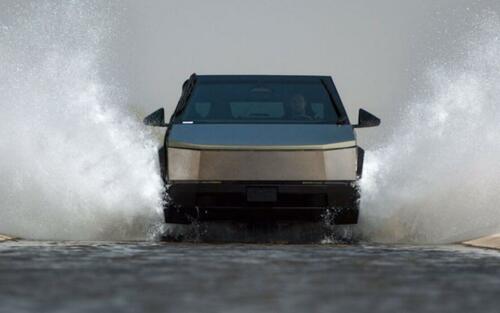 Musk wants to make it clear that Tesla is an AI company:
"Our commitment to being at the forefront of AI development entered a new chapter with the start of production of Dojo training computers. We are hopeful that our immense neural net training needs will be satisfied using our in-house designed Dojo hardware. The better the neural net training capacity, the greater the opportunity for our Autopilot team to iterate on new solutions. "
Tesla concludes: "The challenges of these uncertain times are not over, but we believe we have the right ingredients for the long-term success of the business through a variety of high potential projects."
Loading...