---
The UAW Strike Is A Thorn In The Side Of Biden's Domestic EV Agenda
It isn't any wonder that the Biden administration seems to have no idea what, if any, role it can and will play in the ongoing UAW strike.
After all, the strike (among many other indicators), "exposes a conflict at the heart of the Biden administration's economic policy that could be difficult to resolve," the Wall Street Journal wrote this week. 
Namely, big wage increases are going to make it difficult for U.S. EV production to compete with vehicles coming out of China - a problem that Europe is also having, resulting in the EU recently launching an inquiry into Chinese subsidies. 
Willy Shih, a management professor at Harvard Business School, commented to WSJ: "This puts the administration really in a fix. You can take the side of labor and say OK, let's raise everybody's costs. I get that, but then what's the long-term competitiveness of the domestic industry?"
The UAW, whose ranks saw some of their workers initiate a strike last Friday, is pushing for a salary boost exceeding 30% to be spread across a four-year period, the Journal writes. 
UAW demands also encompass a reduction in the workweek to 32 hours, an insistence on eliminating the utilization of temporary laborers, and a rollback of certain concessions that were conceded during the 2007-09 economic downturn. This period notably saw General Motors and Chrysler, now under the Stellantis umbrella, grapple with bankruptcy. Among the key requests is the restoration of cost-of-living adjustments to ensure that wages keep pace with inflation.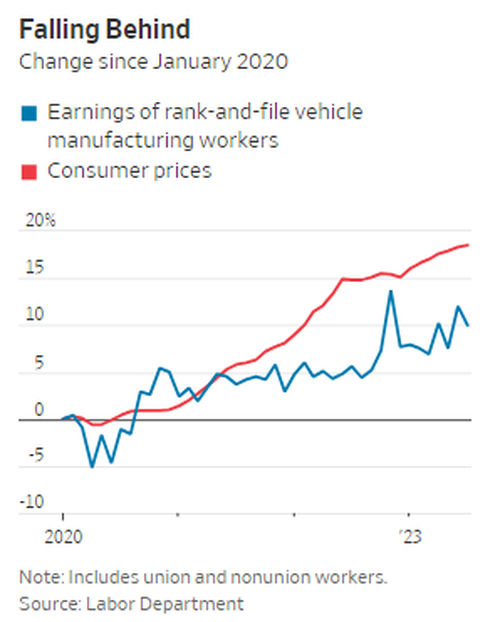 The UAW has reported an average increase of 6% in base wages since their prior contract in 2019, according to the report. 
Additionally, their members have benefited from lump-sum payments and profit-sharing arrangements. Over the same time frame, vehicle prices have surged by nearly 23%, with overall consumer prices experiencing a 19% uptick, according to data from the Labor Department.
The labor union underscores the substantial profit margins reaped by the major automotive players, including GM, Ford, and Stellantis. These profits have been amplified due to limited supply resulting from parts shortages and robust household demand, which have driven prices upward. 
However, the companies argue that these profits are earmarked for facilitating the transition to electric vehicles.
Notably, the total compensation for union workers, encompassing benefits, hovers around $60 per hour, as per company figures. This surpasses the $55 hourly average at nonunion facilities and the $45 mark at nonunion Tesla, as assessed by analysts from Barclays.
Recall, we noted this week that the effects of the UAW strike were already wreaking havoc on automakers: we pointed out that Ford had already laid off 600 workers as a result of the strikes and Stellantis was considering shuttering 18 plants as part of contract negotiations. 
Loading...