---
Used-Car Prices Tumble Most Since Start Of Pandemic, Record Drop For Month of June
To think it was just four short months ago when used car prices unexpectedly spiked, bucking the bleak and gloomy economic landscape and consumer spending doom and gloom, with the Manheim used vehicle index reporting that in February used car prices jumped 4.3%, the most since February 2009.
"Used-vehicle prices increased 4.3% in February from January. This was the largest increase for the full month of February since 2009's 4.4% rise" - Manheim Used Vehicle Index pic.twitter.com/5H9yD3C3H2

— zerohedge (@zerohedge) March 7, 2023
Well, not any more. Earlier today, Cox Automotive - owner of the closely followed Manheim price index - reported that used-car prices plunged 4.2% in June from May, the biggest monthly drop since the start of the pandemic.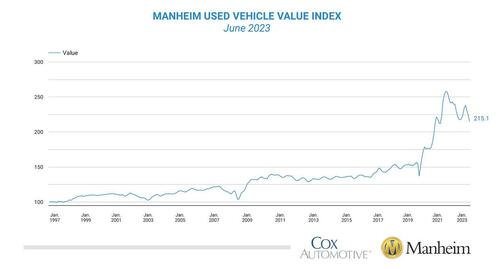 Specifically, in June, the Manheim Used Vehicle Value Index declined to 215.1, down 10.3% from a year ago.
"The 4.2% drop is among the largest declines in MUVVI history and the largest decline since the start of the pandemic in April 2020 when the index plunged 11.4%," said Chris Frey, senior manager of Economic and Industry Insights for Cox Automotive.
Not only was the June drop the biggest in over three years, it was also a record for the month. The non-adjusted price change in June decreased by 3.8% compared to May, moving the unadjusted average price down 10.1% year over year.
"The year-over-year decline was also large, another 2.7% drop from May's annualized 7.6% decline, but as mentioned last month, auction prices were lower in the fall last year, and we expect these increasing year-over-year moves to shrink in the months ahead as the market normalizes. Buyers at auction look to have taken an early summer break, and while used retail inventory has been improving over the last several weeks, we are expecting less volatility in wholesale price movements through year-end."
The major market segments saw seasonally adjusted prices that remained lower year over year in June. Compared to June 2022, pickups and vans lost less than the industry, at 6.6% and 8.5%, respectively. While sports cars fared the worst at 14.8% year-over-year, compact cars lost 12.6%, and midsize cars were off by 12.2%. Compared to last month, all segments were down, with sports cars, luxury, vans, and SUVs off less than the industry. Compact and midsize cars lost the most, with declines of 6.6% and 6.7%, respectively.
Used-car prices have been a key driver of core inflation, which strips out food and energy prices. Core inflation has been especially sticky this year, even as the headline inflation rate has fallen. Overall, consumer spending on vehicles — new, used and car parts — is up 10% from a year ago, Cox said. The Bureau of Labor Statistics will release its next monthly report on consumer prices on July 12.
Ironically, even though the data suggest precisely the opposite, Jonathan Smoke, Cox chief economist, said in a media briefing on Monday that "we are not tipping into a recession," adding that "the consumer is hanging in there" even though the consumer clearly appears to have cracked.
Today's Manheim data affirms an observation made by Goldman's economists who said that while used car prices surprised to the upside in the first half of the year due to China's Covid wave and a lull in global microchip production, looking ahead, the three strongest predictors of used car prices — new vehicle inventories, new vehicle incentives, and the new-versus-used price differential — all point to significant declines.
Today's data was just the first such confirmation. And more importantly, these declines will begin flowing through to consumer prices with the June CPI data on Wednesday. Importantly, none of these auction price declines yet have flowed through to the CPI or PCE measures because of the lag between wholesale and consumer prices.
Reflecting these findings, Goldman has lowered its used car inflation forecast by 4% to -11% year-on-year in December 2023: "This assumes 14% downside from current levels and would lower year-on-year core PCE inflation by 0.1% and core CPI inflation by 0.2%, relative to the pace in May."
And while the collapse in used car prices is a welcome sign - especially after a year when second-hand vehicle prices soared month after month - the bad news is that after CPI tumbles to just 3.0% on Wednesday largely thanks to a base effect, CPI will resume heading higher absent a full-blown economic shock that takes sequential inflation down to zero or negative, both of which are unlikely absent a major recession.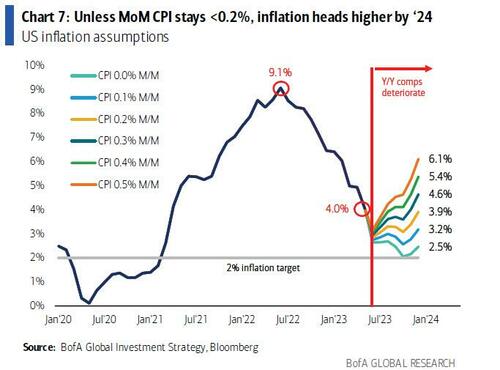 Loading...