---
VW Curbs EV Production As EU Demand Falters Amid Gloomier Economic Picture
German newspaper Nordwest-Zeitung reports Volkswagen has temporarily reduced the production of electric vehicles at one of its plants.
Volkswagen's Emden plant in Lower Saxony has reduced production of the electric ID.4 compact SUV and ID.7 sedan for the next two weeks because of weakening sales.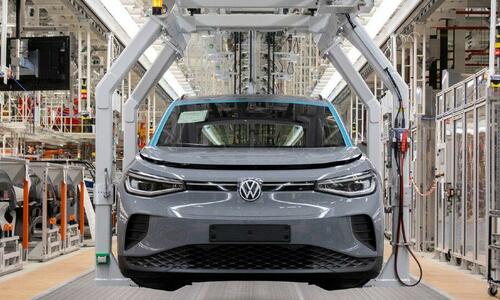 Industry blog Autocar reported Manfred Wulff, head of the works council for the Emden plant, told German Press Agency in an earlier article published by the North West newspaper that while EV production was being reduced, production of combustion-engine models, including the Volkswagen Passat, are unaffected. 
Wulff said 300 of the current 1,500 temporary workers employed at the plant would not have their contracts renewed in August. And he noted EV demand is 30% below planned production figures. 
"We are experiencing strong customer reluctance in the electric vehicle sector," he told the North West.
Wulff noted that the ID 7 saloon, planned to start production in July, would be delayed to "later this year." 
North West interviewed the minister of economic affairs for Lower Saxony, Olaf Lies, who said, "Registration numbers of electric vehicles continue to be high, but what concerns us is the current dip in demand - not only at Volkswagen but across all manufacturers." 
The timing of this news comes as the eurozone economy was in a technical recession in the first three months of 2023.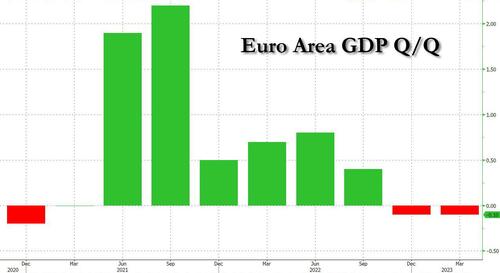 The contraction was due to a downward revised second estimate from Germany's statistics office showing that the eurozone's largest economy was in recession in early 2023.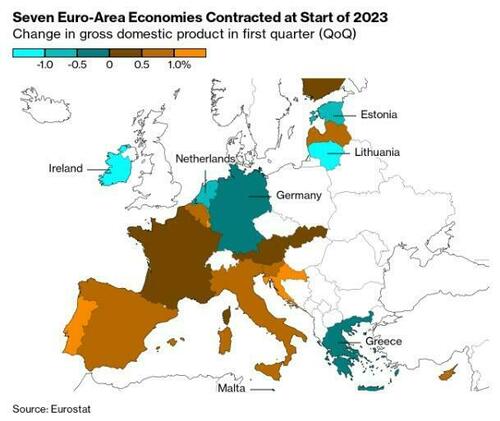 A downturn in the euro area economy is weighing on demand for large ticket items, like fancy EVs. Many on the continent have been dealing with the highest energy and food inflation in a generation as living standards plunge. 
Stifel analyst Daniel Schwarz commented on the news. He said, "Reducing the number of temps and canceling a shift signals that VW is not expecting this to improve in the short term." 
Could we be witnessing the beginning innings of EV demand cracking?  
Loading...