---
"We Have Turned Away Inventory": US EV Market Struggles As Cars Pile Up On Dealer Lots
The rising mismatch between electric vehicle supply and demand is showing up at car dealerships as unsold EVs stack up. Dealerships tell Bussiness Insider that EV supply from automakers has been turned away as demand cools. 
Rising EV inventories and a Tesla-fueled price war could signal the beginnings of a pause in growth for the EV market. 
Scott Kunes, the chief operating officer of Kunes Auto and RV Group, which sells Detroit brands and Nissan and Mitsubishi in the Midwest, said: "We have turned away EV inventory." 
Big Detroit brands are "asking us to make a large investment" in these EVs, Kunes added, "and we just want to see some return on that investment."
A recent report from Cox Automotive shows automakers such as General Motors, Ford, Hyundai, and Toyota have more than 90 days' worth of unsold EVs at dealerships in July. That's about 92,000 EVs sitting at lots, more than three times the number compared with a year ago. New vehicle inventories are up about 74% from a year ago.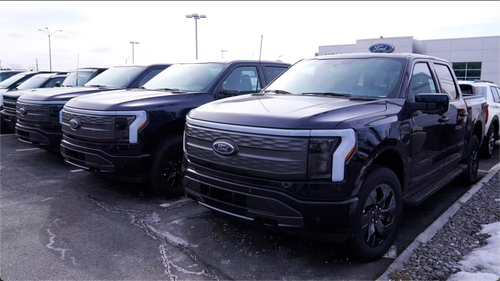 "It's not just that these vehicles are expensive — which they are. We're talking about a much more nuanced lifestyle change," said Sam Fiorani, the vice president of global vehicle forecasting at AutoForecast Solutions.
Fiorani said some lifestyle changes include 20-30-minute charges and range anxiety. He said, "It's hard for the average customer to make that leap while spending an extra $10,000." And not just the price but also the highest interest on new auto loans since 2009.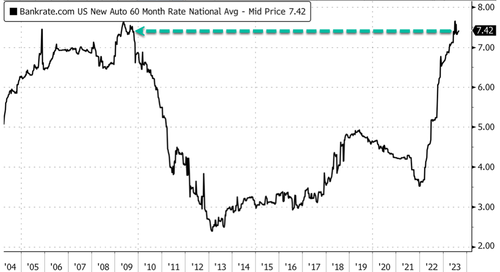 Several dealers previously told Insider:
As a result, one East Coast Ford dealer told Insider they were only declining allocation of electric cars from the automaker. Another in the Midwest said Lightning orders were piling up uncompleted, leaving those customers with time to pick a different EV. One Hyundai dealer on the West Coast said they were also passing on EV-specific allocation, while another Hyundai dealer told Insider he anticipated having to turn away EVs soon.
EV demand might have plateaued while major automakers are still ramping up production. By 2026, the US market is expected to have 90 new EV models, according to AutoForecast Solutions. We suspect many brands will suffer with profitability. 
Loading...