---
Amazon Makes Sweeping Overhauls Of Grocery Business To Compete With Walmart, Kroger
Amazon is taking more strides in the world of grocery, launching the biggest overhaul of that part of its business since it bought Whole Foods. The details of its new overhaul, reported on by Bloomberg this week, include "revamping stores, testing new highly automated warehouses and, for the first time, offering fresh-food delivery to customers who aren't Prime subscribers."
The new initiatives will be put into place in coming weeks and months, the report says, with the intention of widening Amazon's footprint in grocery. 
On August 2, the company is going to invite people who are not Prime members to use online grocery ordering. Boston, Dallas and San Francisco will be among 12 cities where the program pilots. Fees will be $7.95 to $13.95, about $4 more than what Prime members pay. 
Former Tesco executive Tony Hoggett, senior vice president for worldwide grocery stores, is leading the charge for Amazon, which hopes to make up ground on names like Kroger and Costco in grocery. Hoggett told Bloomberg: "We're serious about grocery. Our plan is on building this really strong grocery relationship with customers over time."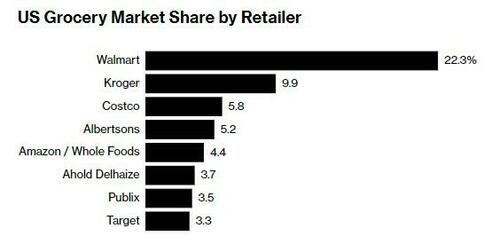 The company will also look to stock Whole Foods items in Amazon warehouses, so customers won't have to navigate more than one online checkout to get their groceries. "We recognize that still needs to be improved," Hoggett added. 
Brick and mortar Fresh stores will now sport Krispy Kreme stands near the door and will add 1,500 items to what had previously been limited inventory. Peter Abraham, a marketer in Los Angeles, told Bloomberg that Amazon's Fresh stores "feels soulless". 
"There were bells and whistles when they opened that look better in theory than reality. The new group says, 'People like coffee and doughnuts, we need coffee and doughnuts.' This is the new guard. These people aren't technology people," David Bishop, a partner with Brick Meets Click, a grocery and retail consultant, said. 
Hoggett is concentrating on perfecting Amazon's retail presence in a few select markets, instead of aggressive expansion, stating: "All the look and feel and design is very different to our existing Fresh stores. Customers respond to a bit more of a bright and airy and light experience."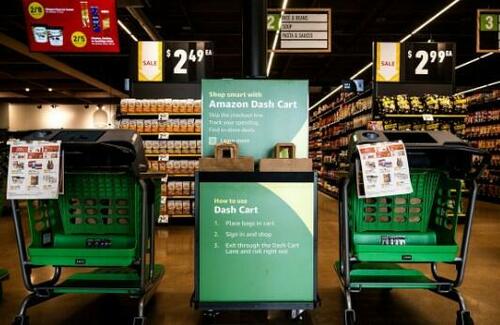 As Bloomberg notes, margins have always been a struggle: "Amazon required a grocery order of about $115 to break even in 2010, on average. A decade later that break-even point was still $90 to $100."
Amazon needs more physical stores to add to its Whole Foods stores in order to help the razor thin margins that come with the grocery business. It has about 530 Whole Foods stores and was going to add "hundreds more" before Andy Jassy stopped spending and the company shuttered more than 60 locations last year. 
The company is also adding "Dash Carts" which identify items placed into a cart and run a tally of prices for the customer. They will make it easier for customers to "just walk out" as a means of checking out, and they will be billed automatically. 
"The customers that enjoy Just Walk Out in the Fresh stores, they really love it. But we also recognize that it's so new for many, many customers. The whole point for us is everybody's welcome in our stores," Hoggett concluded. 
Loading...