---
WeWork Shares Collapse After Company Warns "Substantial Doubt" Exists About Staying In Business
It all started off positively as WeWork reported revenue for the second quarter that almost met the average analyst estimate (Revenue $844 million, +3.6% YoY, estimate $851 million).
"In a difficult operating environment, we have delivered solid year-over-year revenue growth and dramatic profitability improvements," David Tolley, Interim Chief Executive Officer, commented.

"Excess supply in commercial real estate, increasing competition in flexible space and macroeconomic volatility drove higher member churn and softer demand than we anticipated, resulting in a slight decline in memberships."
But then things started to go downhill...
Against expectations of a $2.68mm profit, the co-working company suffered an adjusted-EBITDA loss of $36mm.

The net loss was $397mm and cash levels are at $205mm (down 67% YoY).
And then it went off the cliff...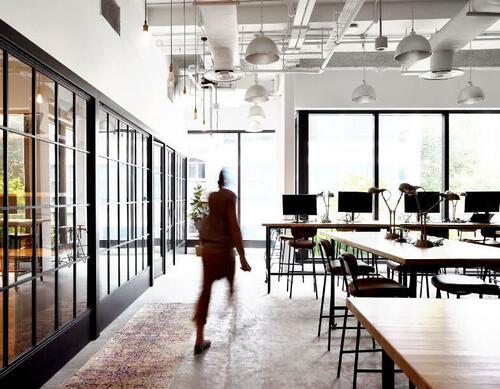 Later in the filing, the company added,
...as a result of the Company's losses and projected cash needs, combined with increased member churn and current liquidity levels, substantial doubt exists about the Company's ability to continue as a going concern.

The Company's ability to continue as a going concern is contingent upon successful execution of management's plan to improve liquidity and profitability over the next 12 months, which includes, without limitation:

Reducing rent and tenancy costs via restructuring actions and negotiation of more favorable lease terms;

Increasing revenue by reducing member churn and increasing new sales;

Controlling expenses and limiting capital expenditures; and

Seeking additional capital via issuance of debt or equity securities or asset sales.
"We are confident in our ability to meet the evolving workplace needs of businesses of all sizes across sectors and geographies, and our long term company vision remains unchanged," continued Tolley.
"Although we have more work to do, the talent and energy of the WeWork team is extraordinary and we are resolutely focused on delivering for our members for the long term. The company's transformation continues at pace, with a laser focus on member retention and growth, doubling down on our real estate portfolio optimization efforts, and maintaining a disciplined approach to reducing operating costs."
Well, the market is not "confident" as WeWork plunged another 25% after hours...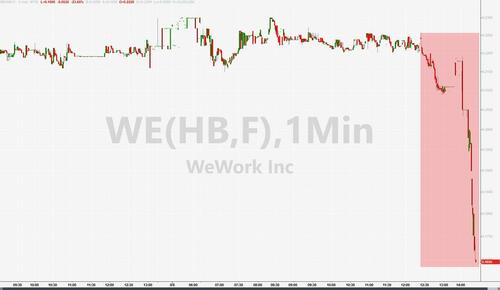 Do you believe in miracles?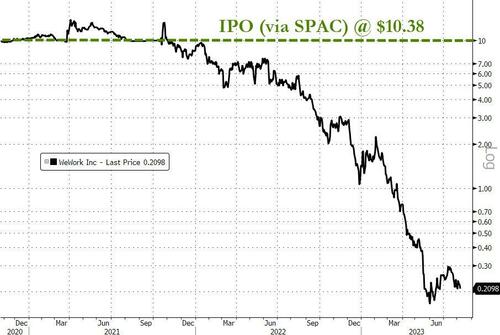 Meme-stock mania time?
As a reminder, WeWork was 'valued' at $47 billion at its peak (when still private before the first failed IPO effort).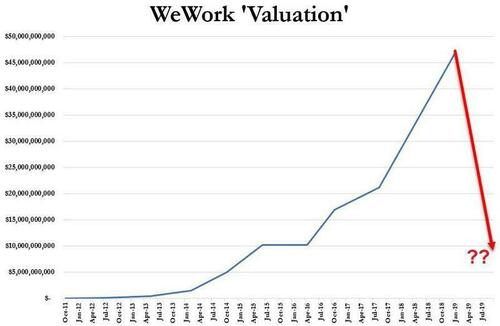 After tonight's 35% loss, WeWork is now valued at around $290 million (with an 'm').
The market is always right:

WeWork's peak private valuation was $47BN
It went public in a SPAC merger with a $8BN valuation
It now has a market cap of $400MM

And that's without corporate fraud or the CEO appearing on a Clinton Initiative forum with a black turtleneck

— zerohedge (@zerohedge) August 8, 2023
Loading...