---
Wheels Come Off The "Strong Jobs" Myth: Job Openings Drop To 2 year Low As Number Of Hires And Quits Plunge
For those enthralled by the narrative that AI will cause a margin-busting corporate revolution as millions of well-paid, middle-management employees are replaced by a cheap "bullshitting" AI algo, then today's latest JOLTS report may come as a bigger shock than the big drop in job openings from one month ago. That's because after unexpectedly dumping by 496K in May (a number which has been revised far worse of course), the BLS just reported that in June the number of job openings was practically unchanged, dropping by just 34K, to 9.582MM from a downward revised 9.616 million. And while the monthly change was modest after the downward revision of course, the total was dragged to the lowest level since April 2021.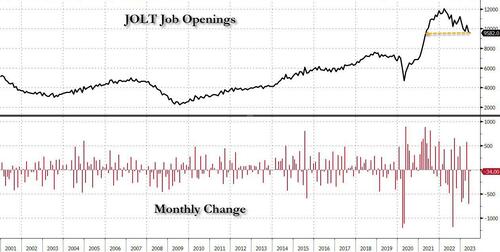 The number was about 1.4 million below the 11 million from a year ago and below the consensus estimate of 9.6 million, a rare miss in a series which has been best known for decisively beating Wall Street's expectations.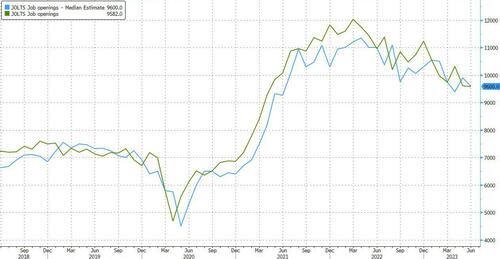 According to the BLS, the largest increases in job openings was in health care and social assistance (+136,000) and in state and local government, excluding education (+62,000). Job openings decreased in transportation, warehousing, and utilities (-78,000), state and local government education (-29,000), and federal government (-21,000)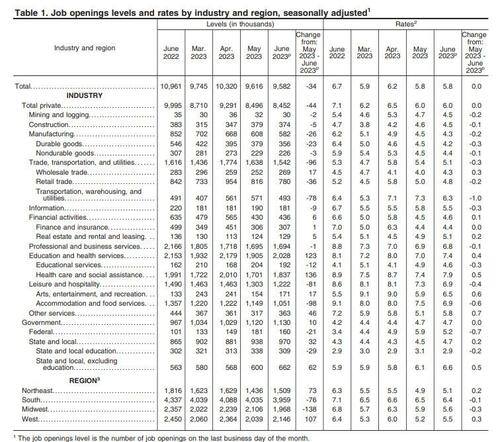 The slide in the number of job openings meant that after rising to the highest since January 2023 in April, in June the number of job openings was just 3.7625 million more than the number of unemployed workers, the lowest since Sept 2021.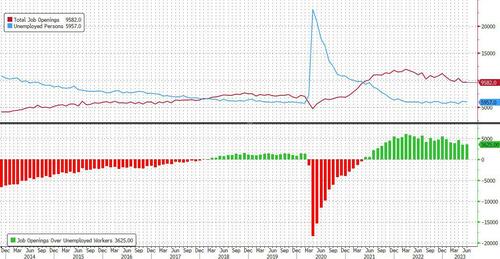 Said otherwise, after rising to 1.82 openings for every worker in April, in June the number dropped to just 1.61, which would have been the lowest level since Oct 2021 if it weren't for last month's sharp downward revision.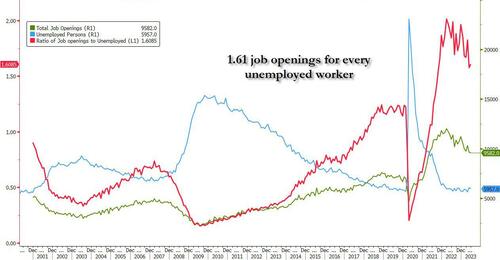 Yet even as the number of job openings dropped only modestly from the (sharply) downward revised print for May (because under Biden, no number is ever revised stronger), conflicting data remained and in June, the number of people quitting their jobs - an indicator traditionally associated with labor market strength as it shows workers are confident they can find a better wage elsewhere - unexpectedly tumbled by 295K to just 3.772MM, the biggest monthly drop since May 2021.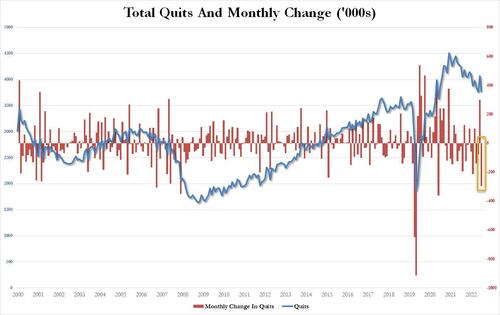 According to the BLS, the number of quits decreased in several industries, with the largest decreases in retail trade (-95,000), health care and social assistance (-75,000), and construction (-51,000). The number of quits increased in arts, entertainment, and recreation (+20,000).
And just in case some still believe Biden's strong jobs lie, the number of hires also tumbled in June, crashing by 326K - the biggest monthly drop since July 2020...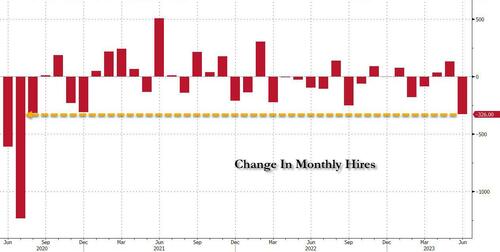 ... to 5.905MM, the lowest since February 2021.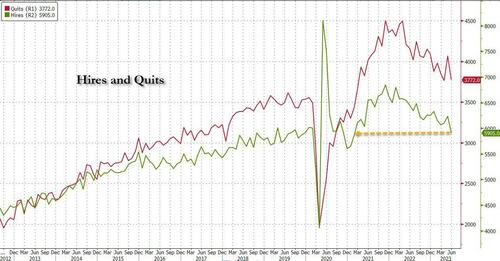 Of course, as we have explained on multiple occasions previously, none of the above data actually matters or is credible for the simple reason that the response rate of the JOLTS survey is stuck at a record low 31.2%. Which means that only those who actually have job openings to report do so, while two-thirds of employers are either non-responsive or their mail is quietly lost in the mail.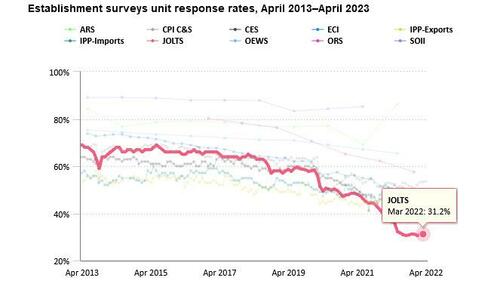 Loading...