---
World's Largest Offshore Wind Farm-Maker Crashes Most On Record After Catastrophic Results
Shares of the world's largest offshore wind farm developer crashed in Copenhagen trading on Wednesday after it warned: "The situation in US offshore wind is severe." 
Orsted A/S was hit with a massive 16 billion Danish kroner ($2.3 billion) impairment on its US portfolio due to snarled supply chains, soaring interest rates, and easy money tax credits drying up -- a warning sign the green energy revolution bubble is in trouble. 
CEO Mads Nipper warned investors on a conference call: "The situation in US offshore wind is severe." 
Shares in Denmark-listed green energy giant crashed 25%, the largest daily decline since it went public in early 2016.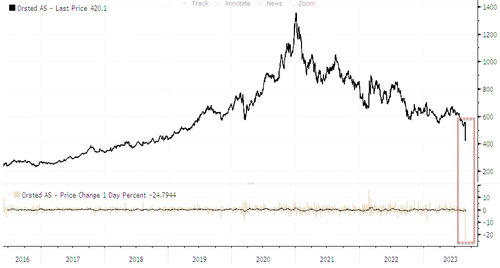 Bloomberg explained more about the headwinds plaguing Orsted: 
The company's Ocean Wind 1, Sunrise Wind, and Revolution Wind projects in the US are being hurt by supplier delays, which could lead to writedowns of up to 5 billion kroner, it said late Tuesday. High interest rates could also add another 5 billion. In addition, the developer is still in talks with federal stakeholders to qualify for additional tax credits, which haven't progressed as expected. If unsuccessful, it could lead to impairments of as much as 6 billion kroner.
Analysts at Bernstein warned clients in a note: "Today's announcement flags risks in the US portfolio and does not do anything to improve the downbeat investor sentiment on the stock." 
"While the bulls could argue many of these issues related to the impairment are already known, the announcement is unlikely to bode well for an already-weakened Orsted share price," Citigroup Inc. analyst Jenny Ping told clients. 
Analysts across the board were overwhelmingly pessimistic about the news (list courtesy of Bloomberg):
BNP Paribas Exane (cut to neutral from outperform)

The potential write-down of DKK16b dwarfs the DKK2.5b impairment announced in January, analyst Harry Wyburd writes in a note
Investor confidence will probably be "compromised" for some time

UBS (buy)

Sam Arie puts the focus on which targets will remain valid in this context
Says today's announcement is a negative and somewhat of a surprise 
Adds investors may be concerned in the change in tone since the June CMD where management seemed more confident in regulatory changes that would help to protect the return profile of these US projects

Jefferies (buy)

The update is a "clear negative," analyst Ahmed Farman (buy) writes in a note
The impairments are equivalent to as much as ~7% of the Danish power generator's market capitalization
Still, Jefferies says recent share price weakness suggests the market hasn't priced in "much value" in the company's near- term US offshore pipeline

RBC (sector perform)

Alexander Wheeler also calls it a clear negative, with further doubt cast on the overall outlook for US projects, which many believed had been resolved at the capital market day
With ~$4bn invested in the US projects to date, the impairment of up to DKK 16bn ($2.4bn) represents just over half of the overall value 
The DKK5b supplier charge is believed to be the maximum number, while on interest rates, if rates stay at current levels then the DKK 5b will be the impact booked at 9M
We ought to label Orsted's crash as the 'Green Panic.' Bulls eager to ride the climate energy revolution might want to rethink their mid-term views.
Loading...