---
Yellen Warns Against "Winner Take All" Fight With China
During her first full day of meetings in Beijing on her 3-day trip, US Treasury Secretary Janet Yellen on Friday condemned China's recent "punitive" actions against US companies as well as the newly announced export controls on two rare metals commonly used in computer chips and solar cells, gallium and germanium.
Following "substantive" talks with former Chinese economy czar Liu He, she told a meeting of the American Chamber of Commerce in China (AmCham) that the world's second-largest economy should implement market reforms, and further vowed the US and its allies will fight back against China's "unfair economic practices". 
But crucially elsewhere, her statements given directly before Chinese officials reflected that she's trying to smooth things over with China's leadership after the controversial Biden remarks of last month wherein he referred to President Xi Jinping as "a dictator".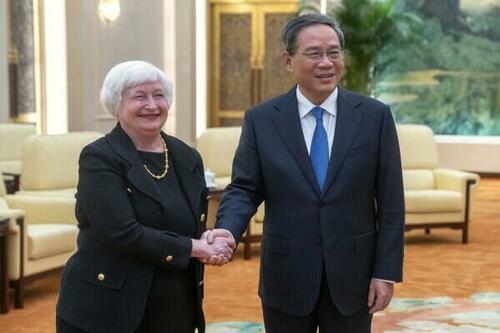 She emphasized that Washington doesn't want to go down the path of a "winner take all" fight with China, but desires fair economic competition which will result in benefits for both countries. 
According to her Friday remarks as cited in The Wall Street Journal: 
U.S. Treasury Secretary Janet Yellen pledged to Chinese Premier Li Qiang that the U.S. doesn't seek economic estrangement from China, as she sought to curb a steep slide in relations between the world's two biggest economies during a closely watched visit to Beijing. 

In China's Great Hall of the People on Friday, Yellen defended the Biden administration's position that the U.S. isn't pursuing a "winner take all" fight with China, but rather wants to engage in economic competition that would benefit both countries over time. 

Yellen played down efforts by the U.S. to limit China's access to sensitive technology—a particular irritant for Beijing, which has begun retaliating more forcefully—as narrowly targeted. She said such measures aren't a reason to allow relations to deteriorate further. 
She emphasized, "The United States will, in certain circumstances, need to pursue targeted actions to protect its national security. And we may disagree in these instances." Yellen added: "However, we should not allow any disagreement to lead to misunderstandings that unnecessarily worsen our bilateral economic and financial relationship."
The Chinese side has so far struck a tone of optimism:
Chinese Premier Li Qiang told US Treasury Secretary Janet Yellen in Beijing that he believes the bilateral ties will see "more rainbow" after "wind and rain," according to Bloomberg. 
Notably, the more conciliatory tone of not wanting a "winner take all" fight came later in the day, following the initial remarks criticizing Beijing over recent punitive actions. 
* * *
On the above point, Marketplace's Kai Ryssdal, who is traveling in the Treasury Secretary's press pool, had this to say on his day one impressions [emphasis ZH]...
"And look, she has been hearing from American executives about some of the things that have happened, right. And Chinese employees of American companies have been arrested and detained. There are laws here — a new espionage law has been passed that is giving American executives some pause. And let's remember, she was speaking to the American Chamber of Commerce in Beijing. So she knew her audience."
"That said, this remark is, I don't believe what Yellen would want to be highlighted because she really, really wants the American relationship to be steady. She wants it to be calmed a little bit, the American relationship with China, and at the same time knows that she has to look out for American companies."
Loading...