---
Zillow Extends Lifeline: New Down Payment Aid Targets Struggling Homebuyers
On Thursday, Freddie Mac's average rate on a 30-year fixed mortgage topped 7.09%, the highest since 2002, in yet another blow to homebuyers and a sign the housing affordability crisis worsens. On the same day, Zillow Home Loans published a press release about its new "1% Down Payment program to allow eligible home buyers to pay as little as 1% down on their next home purchase."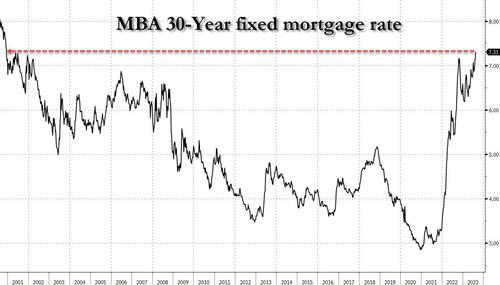 "This program can reduce the time needed to save for a down payment and provide another option for those who are otherwise ready to take on a mortgage payment," Zillow said, adding the new program will first be available for Arizona properties, with nationwide expansions sooner after: 
With the 1% Down Payment program, borrowers who qualify can now save just 1% to cover their portion of the down payment and Zillow Home Loans will contribute an additional 2% at closing. The 1% Down Payment program can reduce the time eligible home buyers need to save and open homeownership to those who are otherwise ready to take on a mortgage.
Zillow aims to lower the downpayment barrier and increase activity in the frozen housing market. The highest 30-year fixed mortgage rate since 2002 has sent mortgage applications to the lowest levels since 1995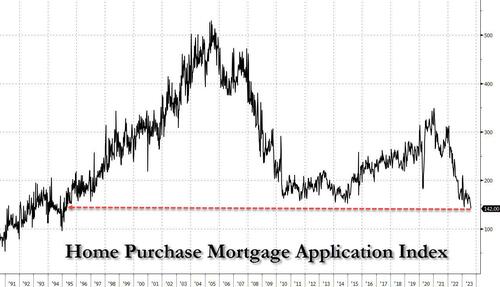 "For those who can afford higher rent payments but have been held back by the upfront costs associated with homeownership, down payment assistance can help to lower the barrier to entry and make the dream of owning a home a reality," said Zillow Home Loans' senior macroeconomist Orphe Divounguy.
Divounguy continued, "The rapid rise in rents and home values means many renters who are already paying high monthly housing costs may not have enough saved up for a large down payment, and these types of programs are welcome innovations in lowering the potential barriers to homeownership for those who qualify."
If mortgage rates increase, more buyers will be sidelined -- and Zillow appears to be getting ahead of this by offering the new program. The inventory issue has yet to abate and is a structural problem that has kept home prices at lofty levels -- making this moment in time the least affordable since 1984. 
Chief economist at Moody's Analytics, Mark Zandi, told Bloomberg, "When you get to 7% plus, the market goes dark. Affordability is too far out of reach." 
Perhaps this Zillow venture will fare better than its home flipping several years ago that led to steep losses.
Loading...