---
Antiviral Drug May Shorten COVID-19-Induced Loss Of Taste And Smell
Authored by Mary Gillis via The Epoch Times (emphasis ours),
New data suggest scientists have discovered a medication first designed to treat COVID-19 may also lessen the time it takes for two common symptoms of the disease: loss of taste and smell—to disappear.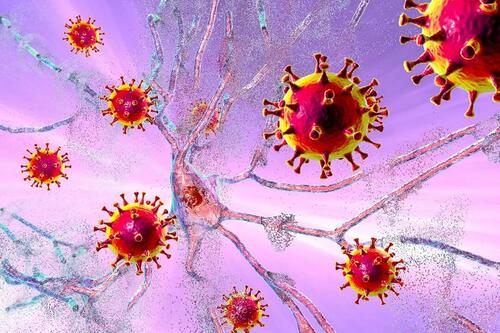 The oral antiviral drug ensitrelvir (brand name Xocova) was granted a Fast Track designation by the U.S. Food and Drug Administration (FDA) to be investigated as a potential treatment for COVID-19 in April. Soon after, results from randomized clinical trials published in Clinical Infectious Diseases showed ensitrelvir was safe, effective, and successful in suppressing viral replication in patients with mild to moderate COVID-19.
"As an investigator who has evaluated both clinical data and real-world experience with ensitrelvir, I am optimistic about its potential to become an important tool in managing the unpredictability of COVID-19," said Dr. Yohei Doi, a professor of medicine at Fujita Health University in Japan, said in the news release. "The new data ... offer another reason to have confidence in this investigational agent and its potential to be a meaningful treatment option for patients."
The findings were presented in Boston at the October 2023 IDWeek meeting, an annual conference that brings together infectious disease specialists and epidemiologists from around the globe.
Ensitrelvir remains an investigational drug, having received emergency approval in Japan in November 2022 to treat COVID-19. It has not been approved for use outside of Japan. However, Takeki Uehara, senior vice president of drug development and regulatory science at Shionogi, hopes this will change.
Most patients (over 72 percent) completely recovered their sense of smell post-infection. However, about 1 in 4 people affected recovered only partially. Approximately 4 percent said their sense of smell had not yet returned.
Taste function recovery was similar, with most (about 77 percent) regaining their sense of taste, while 1 in 5 reported partial recovery. Under 3 percent reported no recovery.
Fortunately, smell recovery is possible through smell retraining therapy (SRT). The treatment involves repeated exposure to smells to elicit memories of familiar scents like flowers, fruits, spices, and essential oils.
Ear, Nose, and Throat (ENT) Health, an organization powered by the American Academy of  Otolaryngology–Head and Neck Surgery, recommends patients sniff individual scents for at least 10 to 20 seconds once or twice a day. The four best scents are rose, lemon, cloves, and eucalyptus. Being entirely focused on the task is critical to stimulating memories of each smell. This should be followed by a few deep breaths before moving on to the next scent. Perform this exercise for at least three months.
Loading...