---
Behind A Secret Chinese Biolab In California, A Global Web Of Connections
Authored by Steve Ispas and Lear Zhou via The Epoch Times (emphasis ours),
The discovery of a black market Chinese biolab operating in California, and the subsequent investigation into it, has exposed a tangled web of shell companies obscuring ownership and loopholes that caused delays in cleanup and informing the public.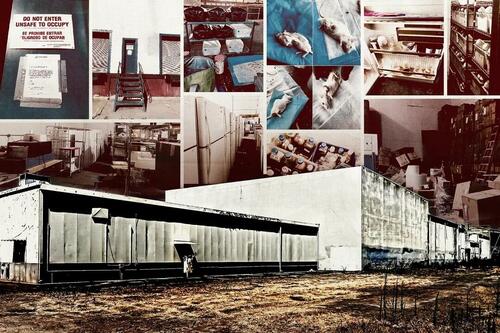 The public found out in March about a secret biolab operating in a warehouse in Reedley, California, about 25 miles southeast of Fresno.
But the warehouse and its biological hazards were discovered months earlier, on Dec. 19, 2022, by Jesalyn Harper, a code enforcement officer with the City of Reedley Fire Department.
Responding to an anonymous tip about the supposedly vacant warehouse, Ms. Harper discovered thousands of vials of bacterial and viral agents, including coronavirus, chlamydia, E. coli, streptococcus pneumonia, HIV, hepatitis, herpes, rubella, and malaria.
The business, operated by Prestige Biotech Inc., was also packaging and mailing out COVID-19 and pregnancy test kits, as well as housing nearly 1,000 lab mice.
Ms. Harper reported her findings to the City of Reedley, which contacted the FBI on the same day. But there was no single authority that could deal with all of the pathogens, chemicals, and biological hazards.
Eventually, a maze of agencies got involved in the investigation and cleanup, including city, county, and state authorities, as well as federal agencies such as the FBI, the Centers for Disease Control and Prevention (CDC), the Environmental Protection Agency (EPA), and the Food and Drug Administration (FDA).
The Biolab Discovery
The warehouse, located at 850 I Street in Reedley, was built in the 1950s mainly as a food packing plant. Trucks would drive up to the alcove area in front of the roll-up doors to load up.
After Ms. Harper received the anonymous complaint about vehicles parked in the alcove, she went to investigate and also noticed a garden hose going into the building via a door being propped open—a potential plumbing violation.
Ms. Harper told The Epoch Times that she knocked at the door and saw three people boxing up pregnancy tests. One of them spoke no English, while the other two spoke very broken English.
At the beginning, Ms. Harper said the trio were very cooperative, but as she walked to the southern part of the building they became deflective.
"What do you do with the mice?" she recalled asking.
"We use the mice for experiments," they replied.
"What kind of experiments?"
"Oh, I don't know, we just give them water."
"What's in the refrigerators?"
"Just stuff for making the tests."
As Ms. Harper asked more specific questions, she said the staff answered less and less, pushing for her to leave. Once she saw labels on the fridges such as "blood," "HIV," she realized it was a potentially hazardous environment and left the building.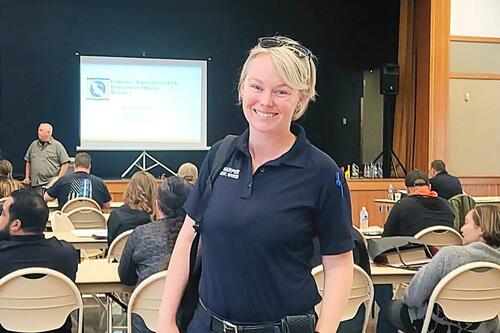 Loading...