---
Class-Action Lawsuit Filed Against Remdesivir Manufacturer Over Alleged Deceptive Practices
Authored by Zachary Stieber via The Epoch Times,
The company that manufactures remdesivir, used across the United States to treat COVID-19, has been hit with a class-action lawsuit over allegations it deceptively promoted the drug without disclosing possible side effects.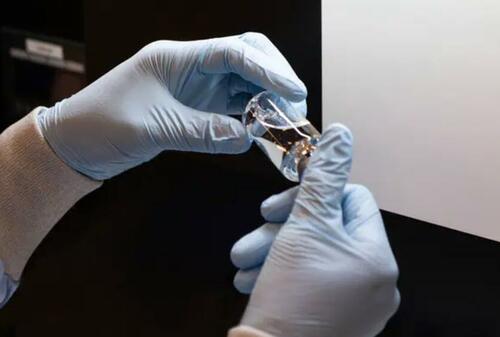 Two California residents, one of whom is a relative of a person who died after receiving remdesivir, lodged the suit against Gilead Sciences in Shasta County on Sept. 26.
Deborah Fust, the surviving spouse of Michael Fust, and Edward Pimentel, who says he was injured after receiving remdesivir, are accusing California-based Gilead of failing to mention documented side effects in its promotion of remdesivir.
"It's a terrible drug. The nonprofit has thousands of members who have the hospital records, and you can see there's a big difference in the creatinine levels and the blood levels, kidney readings after they get the remdesivir," Bradford Geyer, an attorney with Former Feds Group who is representing the plaintiffs, told The Epoch Times.
The FormerFedsGroup Freedom Foundation, a nonprofit, has compiled some of the cases on its website.
The suit says that Gilead's press releases and statements to consumers and investigators from Gilead show "a pattern of downplaying or omitting altogether the clinical dangers experienced by patients from remdesivir use, instead emphasizing its supposed benefits, safety, and efficacy."
For example, a website for the drug, also known as veklury, makes no mention of kidney problems. A handout (pdf) given to patients also does not mention the issues.
"Defendant's advertising that remdesivir is a safe and effective treatment for COVID-19 is false and misleading to a reasonable consumer, including plaintiffs, because defendant in fact knew or should have known, based upon prior studies and data on remdesivir, that it was unsafe and posed a high risk of severe adverse effects and death to plaintiffs and the class," the suit states.
The advertising "misrepresented and/or omitted the true content and nature of the drug," it also says.
Gilead did not respond to a request for comment.
Plaintiffs are seeking class status, which would enable two groups of people to join the suit. They are people who received remdesivir while hospitalized with COVID-19 and suffered serious injuries as a result, and people whose loved ones died after receiving remdesivir after being hospitalized with COVID-19.
Early FDA Authorization
The U.S. Food and Drug Administration (FDA) granted emergency authorization to Gilead for remdesivir in May 2020, primarily based on results from a government-sponsored trial in which researchers changed the endpoint midway. Critics said the change was done in order to garner positive results. The trial found remdesivir quickened recovery time from COVID-19.
The agency made the move without consulting its advisory committee on antimicrobial drugs.
The FDA approved remdesivir in October 2020 and expanded its allowable use to outpatient settings and children.
Soon after, a large trial run by the World Health Organization found remdesivir did not quicken recovery time or reduce mortality. The group recommended against using remdesivir in hospitalized patients, which ran counter to the recommendation in the United States.
Animal studies found indications that remdesivir injured the kidney. The U.S. trial found kidney injuries among remdesivir recipients, including in three patients who were forced to stop taking the drug.
Other studies, as well as post-approval data, have also raised safety and effectiveness concerns.
Researchers reviewing reports to VigiBase, a World Health Organization database, for instance, found reports of kidney injuries after remdesivir were far higher than reports of kidney injuries after other COVID-19 treatments.
Before receiving remdesivir, American patients are instructed (pdf) by the FDA to disclose all of their medical conditions, including kidney problems.
Gilead, while promoting remdesivir, needed to disclose the risk of kidney injuries, according to the new suit.
By not doing so, the company allegedly violated California laws against using deceptive practices and making untrue or misleading statements.
Gilead also made negligent misrepresentations, resulting in unjust enrichment, the suit says.
Plaintiffs are seeking an order establishing a class, an order preventing Gilead from engaging in "unfair, unlawful, and deceptive business practices, and false advertising," an order forcing Gilead to correct its previous advertisements, an order ordering Gilead to recall and destroy misleading and deceptive advertising materials, an order requiring Gilead to pay back money obtained by the allegedly violative actions, and an order compelling Gilead to pay restitution and interest.
Plaintiffs also want damages.
Follows Michigan Ruling
The new suit comes after a court in Michigan ruled that remdesivir was not protected under federal law against an action brought by a man who needed his leg amputated after receiving remdesivir.
The man, Don Nowacki, also suffered two strokes.
The remdesivir he received was said to be contaminated with glass particles.
Gilead argued that it could not be sued because of immunity granted by the Public Readiness and Emergency Preparedness Act, which was triggered by the Trump administration during the COVID-19 pandemic.
The judge rejected that argument, finding the act did not cover the manufacturer in the situation.
Mr. Nowacki and his lawyers are now poised to receive discovery, with a trial coming later.
"One of the things that we're going to figure out is exactly what Gilead, the FDA, and the hospital knew and when," Ven Johnson, one of the lawyers, told The Epoch Times. "How did glass particles that could cause strokes and death in people get into this medication? Why aren't these people approaching us to get our client's medical records to understand what happened?"
Loading...