---
Here Are The Last 79 Colleges Still Mandating COVID Vaccines 
No College Mandates, an advocacy group that argues against the Covid-19 vaccine for higher education, counts 79 colleges and universities that require their students to be vaccinated this fall semester. 
"There are 79 colleges in the US still mandating COVID vaccines when there should be zero just like the rest of the world. Do Not Comply!" No College Mandates posted on X. 
The advocacy group said "COVID injections for one of the lowest risk populations" is "insanity." They added higher education has "zero efficacy and safety data for the the newly approved COVID injections. It is incomprehensible that this remains a reality." 
Many of these schools mandating Covid vaccines are situated in or around Democratic-controlled metro areas (map courtesy of X user Broken Truth).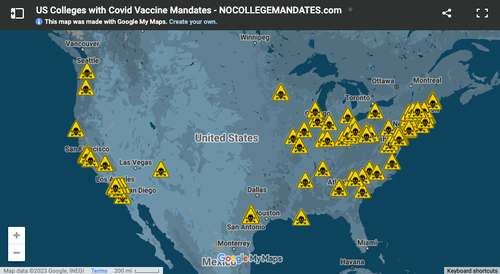 No College Mandates states on their website: 
"It is the fundamental right of each individual to freely choose which medical interventions to receive based on informed consent. Neither sufficient clinical trail data for young adults nor long-term safety data exist for these recently developed and novel vaccines. Because the coercive nature of college vaccine mandates completely disregards students' individual freedom and right to bodily autonomy, we strongly believe that these mandates are unconstitutional, unethical, unscientific and undoubtedly contributing to the psychological distress and the staggering rise in mental health issues among young adults. Institutions of higher learning which impose vaccine mandates do not uphold the very civil rights and liberties they teach and purport to vehemently defend."
If you are curious about which colleges have lifted mandates, the group has published a spreadsheet listing those institutions (read: here). 
Loading...