---
Johnson & Johnson COVID-19 Vaccine Becomes Unavailable In US
Authored by Zachary Stieber via The Epoch Times (emphasis ours),
One of the four COVID-19 vaccines authorized in the United States is no longer available, the nation's public health agency says.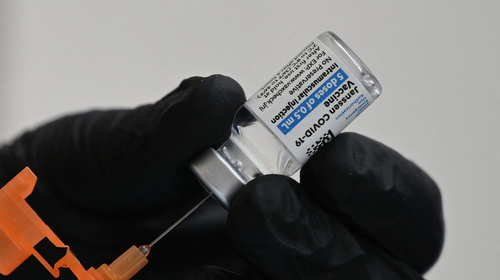 The Johnson & Johnson COVID-19 vaccine "is no longer available in the U.S.," the U.S. Centers for Disease Control and Prevention (CDC) stated in a recent update.
That's due to the vaccine expiring on May 7. Health care workers were advised to dispose of any remaining doses in accordance with regulations.
The CDC and Johnson & Johnson didn't respond to requests for comment.
U.S. regulators first cleared the jab in February 2021, giving Americans an alternative to the messenger RNA-based Moderna and Pfizer COVID-19 vaccines. Johnson & Johnson's vaccine became popular in part because it's only a single dose. The messenger RNA vaccines each have a primary series of two doses.
But uptake slowed after U.S. authorities paused recommending the vaccine because of concerns about a reported link to a combination of blood clotting and low platelet levels, a condition called thrombosis with thrombocytopenia syndrome (TTS) that can cause death. About 15 percent of the post-vaccination TTS cases have been fatal.
Regulators limited the availability of the vaccine in 2022 because experts determined it caused TTS.
Since March, recipients have also been warned that they face an increased risk of myocarditis, or heart inflammation, and a related condition called pericarditis. All four COVID-19 vaccines authorized in the United States present an increased risk of myocarditis, primarily for young males.
As of May 11, 19 million Johnson & Johnson shots have been administered, compared to more than 403 million Pfizer shots, more than 252 million Moderna shots, and about 89,000 Novavax shots, according to data reported to the CDC.
"The vast majority of people in the US who were vaccinated against COVID-19 received either the Pfizer or Moderna vaccines," Dr. Michael Saag, an infectious diseases expert at the University of Alabama–Birmingham, told The Epoch Times via email. "Very few individuals received the J and J vaccine. Therefore, this new development regarding J and J's vaccine no longer being available in the US is not monumental."
Some 31.5 million Johnson & Johnson shots purchased by the federal government had been distributed to states and other jurisdictions, which means about 12.5 million doses will go to waste.
The U.S. government in 2020 agreed to pay about $1 billion for 100 million doses of the vaccine, which is technically produced by Johnson & Johnson subsidiary Janssen.
Earnings Call
Executives said in an earnings call in April that they expected no more COVID-19 vaccine sales moving forward.
"We do not anticipate material sales beyond that which were recorded in the first quarter as our contractual commitments are complete," Joseph Wolk, the company's chief financial officer, said on the call.
Johnson & Johnson reported $747 million in sales during the three-month period that ended on March 23, but all of the sales were made outside the United States.
Analysts had forecast lower COVID-19 vaccine sales prior to the earnings report.
Read more here...
Loading...