---
LeBron James' 18-Year-Old Son Suffers Heart Attack During Practice
Another day, another 18-year-old athlete in peak physical condition suddenly collapsing.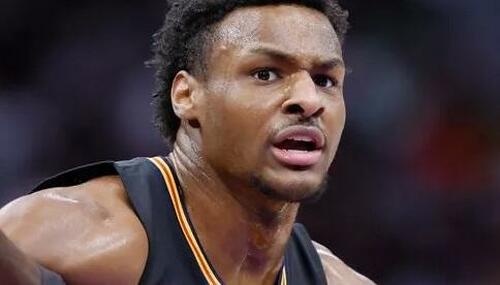 On Monday, Bronny James, the eldest son of LA Lakers star LeBron James, suffered a heart attack during practice at USC.
James was rushed to the ICU, and is now in stable condition, ESPN reports.
"Yesterday while practicing Bronny James suffered a cardiac arrest," said a James family spokesperson in a statement. "Medical staff was able to treat Bronny and take him to the hospital. He is now in stable condition and no longer in ICU. We ask for respect and privacy for the James family and we will update media when there is more information.
"LeBron and Savannah wish to publicly send their deepest thanks and appreciation to the USC medical and athletic staff for their incredible work and dedication to the safety of their athletes."
James, 18, is entering his freshman year at USC and is ranked 20th in the 2023 ESPN 100 rankings. He is the sixth-rated point guard in the class of 2023.

It is the second straight year the Trojans program has had a player suffer cardiac arrest.

Center Vincent Iwuchukwu, one of the top incoming freshman in college basketball last season, suffered cardiac arrest on July 1 and was hospitalized for a few days. He returned to play for USC in January, appearing in 14 games. -ESPN
Damar Hamlin, the Buffalo Bills safety who resumed his career following a mid-game heart attack during a "Monday Night Football" game last season, tweeted support for James.
Prayers to Bronny & The James family as well. 🙏🏽 here for you guys just like you have been for me my entire process.

— 𝐃𝐚𝐦𝐚𝐫 𝐇𝐚𝐦𝐥𝐢𝐧 (@HamlinIsland) July 25, 2023
Of course, it couldn't have possibly been the vaccine - as you see, LeBron James researched it and gave it a clean bill of health.
"After doing my research and things of that nature, I felt like it was best suited not only for me, but for my family and for my friends, and that's why I decided to do it," said James in Sept. 2021, adding that he was initially skeptical about the vaccine before deciding to get it.
Seems like Twitter has a few theories:
An Oxford University study earlier showed that the risk of myocarditis, a form of heart inflammation, is greater from getting 'vaccinated' with the mRNA shots than from contracting the virus itself.

The study was originally published in naturemedicine.https://t.co/lt9VkB5u0o

— Kyle Becker (@kylenabecker) July 25, 2023
Just say no to big pharma.

— Cole Bartiromo the Dollar Scholar (@ColeBartiromo) July 25, 2023
This is Lebron James' 18 year old son showing off his amazing talent during a game earlier this year, he just suffered a heart attack during basketball practice!! Lebron James has stated his entire family is fully vaxxed.

Nothing to see here, carry on. https://t.co/NXB9uD1eKN

— Michelle #FJB (@MichelleRM68) July 25, 2023
Good to hear he's doing better. It's not normal for so many young athletes to have heart issues.

— Ermias (@ErmiasAlem) July 25, 2023
Pfizer got ya both

— Top G (@Tmoneymachine41) July 25, 2023
It would be extremely disheartening for me personally to see Bronny James deprived of an NBA career. In fact, I was hoping he would fall into the Knicks' lap as a mid-round pick up to bring Lebron to New York for his farewell tour. America prays for his recovery above all else.

— Kyle Becker (@kylenabecker) July 25, 2023
Loading...