---
Megyn Kelly Reveals Possible Vaccine Injury, Regrets Getting COVID Shot
Authored by Tom Ozimek via The Epoch Times (emphasis ours),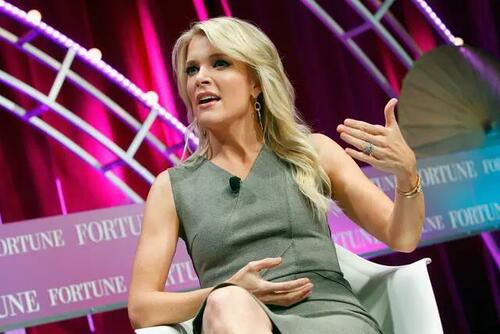 Megyn Kelly, a veteran journalist and podcaster, said Wednesday that she deeply regrets getting the COVID-19 vaccine because she believes she may have suffered a vaccine injury.
Ms. Kelly said that she regrets getting vaccinated and then boosted, saying she doesn't think it was necessary—and that a doctor told her that an autoimmune condition she developed after getting the shot may be related to the vaccine.
"I regret getting the vaccine even though I'm a 52-year-old woman because I don't think I needed it," Ms. Kelly said during a Sept. 6 episode of her podcast "The Megyn Kelly Show."
"I think I would have been fine. I had got COVID many times, and it was well past when the vaccine was doing what it was supposed to be doing," she added.
"For the first time, I tested positive for an autoimmune issue at my annual physical. And I went to the best rheumatologist in New York, and I asked her, do you think this could have to do with the fact that I got the damn booster and then got COVID within three weeks? And she said yes. Yes. I wasn't the only one she'd seen that with," Ms. Kelly said.
Her current vaccine regret stands in contrast to remarks she made in April 2021, when she said she had "zero qualms" about getting the shot.
"Am getting the [Johnson & Johnson] vaccine this [weekend]. Have zero qualms [because] have spent a life immersed in a media obsessed with fear-mongering that is often irresponsible and untrue. Do what your doctor tells you to do and ignore everyone else," she said in a post on X, formerly Twitter.
Ms. Kelly's expression of regret at getting the shot comes amid reports linking spike protein-based COVID-19 vaccines to skin problems, a dull ringing in the ears known as tinnitus, visual impairments, blood clotting, and even death.
Studies have also revealed a number of issues affecting vaccinated children. For example, one recent study, published in the journal Frontiers in Immunology, shows that the mRNA-based vaccine for COVID-19 reduced children's immune responses to other infections, making them more prone to getting sick after coming into contact with other pathogens.
Another study published by Circulation showed that some children who experienced heart inflammation after COVID-19 vaccination had scarring on their hearts months later.
The Centers for Disease Control and Prevention (CDC) continues to recommend that people of all ages receive a COVID-19 vaccine despite the risk of heart inflammation and other side effects.
Also, documents show that the Food and Drug Administration (FDA) and the CDC hid data showing a spike in COVID-19 cases among the vaccinated.
Former President Donald Trump told former Michigan gubernatorial candidate Tudor Dixon in a recent conversation on her podcast that pharmaceutical companies have an "obligation to be honest" about vaccine side effects and should disclose all relevant data on vaccine harms.
President Trump and Ms. Dixon discussed a range of issues in an episode on the Tudor Dixon Podcast last week. At one point in the discussion, Ms. Dixon asked about President Biden's announcement to fund a new COVID-19 vaccine.
"He wants everyone to get this vaccine," Ms. Dixon said. "And we're hearing about a lot of complaints from vaccine injured. To say a lot is an understatement."
She then asked President Trump about vaccine data transparency, citing reports of various adverse events, including heart inflammation and blood clots.
"Numerous pharmaceutical companies have refused to release their data on vaccine side effects," she said. "But we've seen cases of myocarditis, blood clots, and heart attacks; they're all increasing. The research has never been released."
She asked if President Trump would "demand that the vaccine companies, that the pharmaceutical companies release their vaccine data to the public so that we can see what they're actually seeing about the side effects of this vaccine?"
President Trump replied by saying that pharmaceutical companies "should do that," adding that "we're all in this together, and they should be doing that."
In context of President Biden's remarks about funding a new COVID-19 vaccine, the former president said that "anything new has got to be looked at very carefully."
President Trump then reiterated the point that pharmaceutical companies should release any data on vaccine side effects.
"They should be made public immediately. People should understand that, and they should know what research is showing," President Trump said.
He added that pharmaceutical companies would be wrong to withhold any information on vaccine injuries.
"They have to be honest with the numbers, the facts, and they have an obligation to be honest," he said, "And if they are going to hold back, that means they're holding back something that's not good."
"We'll stand for them in many ways," President Trump said of people who suffered vaccine injuries.
Meanwhile, the FDA has been ordered to accelerate the pace at which it releases to the public data it relied on to license COVID-19 vaccines.
In May, a federal judge in Texas ruled that the FDA must hurry up with disclosing data that underpinned its decision to license COVID-19 vaccines, ordering all documents to be made public by mid-2025 rather than, as the FDA wanted, over the course of about 23.5 years.
"Democracy dies behind closed doors," is how U.S. District Judge Mark Pittman opened his order (pdf), which requires the FDA to produce the data on Moderna's and Pfizer's COVID-19 vaccines at an average rate of at least 180,000 pages per month.
Loading...