---
Middle-Age Crisis: 35-50 Year-Olds Turn To Booze, Bud, And 'Shrooms'
In the land of the 'free' and the home of the distraught: New research reveals an alarming number of middle-aged Americans are drowning their troubles away in binge drinking and getting higher than a kite to pass the time. 
The University of Michigan's Monitoring the Future (MTF) found binge drinking, marijuana use, and hallucinogen consumption among middle-aged adults 35 to 50 (prime-age workers) hit record highs in 2022. 
"While binge drinking has generally declined for the past ten years among younger adults, adults aged 35 to 50 in 2022 reported the highest prevalence of binge drinking ever recorded for this age group, which also represents a significant past-year, five-year and 10-year increase," MTF wrote in the report. 
"The value of surveys such as MTF is to show us how drug use trends evolve over decades and across development, from adolescence through adulthood," said Megan Patrick, research professor and principal investigator of the MTF panel study. 
Adults aged 35 to 50 aren't turning to sports cars and wild adventures in what might be a midlife crisis. Instead, a staggering 28% have resorted to marijuana in the past year, while 4% have used hallucinogens. 
Patrick said, "Behaviors and public perception of drug use can shift rapidly, based on drug availability and other factors. It's important to track this so that public health professionals and communities can be prepared to respond."
Major findings of MTF's report: 
A whopping 44% of young adults smoked marijuana this past year, a drastic climb from the 28% a decade prior.

Daily cannabis use? Skyrocketing. Over 1 in 10 young adults smoke marijuana on a daily basis, nearly double from a decade ago. 

Middle-aged (35-50) aren't far behind; their pot smoking has more than doubled in 10 years, with 28% now getting high.

Trippy times: Both young and middle-aged adults are experimenting with hallucinogens like LSD and shrooms at higher rates. Specifically, 8% of those 19-30 and 4% of the 35-50 brackets. 

The e-cigarette craze is alive and well; young adults vaping nicotine surged from 14% in 2017 to 24% in 2022.

Binge drinking: Nearly 30% of middle-aged folks are on a binge-drinking spree, reaching all-time highs in 2022. That's up from 25% in 2017 and 23% in 2012. 
The findings aren't surprising. We reported earlier this year that a 'shroom boom' was blasting off as middle-class soccer moms and average working-class folks were increasing their consumption of psilocybin, the main active ingredient in psychedelic mushrooms. Even Janet Yellen joined in on the craze while in China...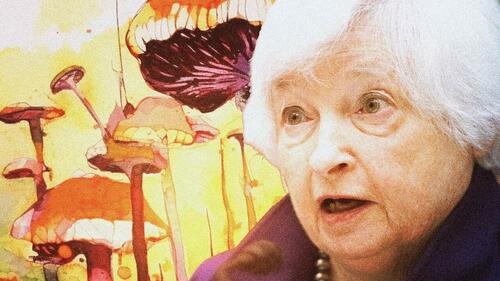 Numerous studies have shown those who used psilocybin were able to curb drinking and other drug addictions easier. These studies add to increasing research showing that psychedelics paired with therapy could treat mental health issues.  
MTF's latest report shows Americans are binging on whatever they can get their hands on, indicating a looming mental health crisis. But, of course, the corporate media are blind to this crisis. They would rather focus on 'climate change' using fuzzy math. 
Loading...