---
Most Intensive Ivermectin Use Had 74% Reduction In Excess Deaths In Peru: New Study
Authored by Megan Redshaw, JD via The Epoch Times (emphasis ours),
According to a new peer-reviewed ecological study, a natural experiment occurred when the government of Peru authorized ivermectin for use during the COVID-19 pandemic resulting in evidence of the drug's effectiveness and ability to reduce excess deaths.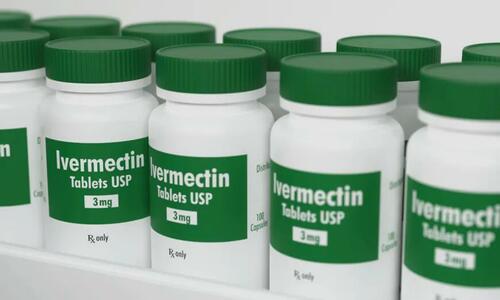 The paper's results, published August 8 in Cureus, found a 74 percent reduction in excess deaths in 10 states with the most intensive ivermectin use over a 30-day period following peak deaths during the pandemic. When analyzing data across 25 states in Peru, researchers found these reductions in excess deaths correlated closely to ivermectin use during four months in 2020.
When ivermectin was available without restriction, there was a fourteenfold reduction in nationwide excess deaths. Once access to ivermectin was restricted by the government, a thirteenfold increase in excess deaths was observed in the two months following the limitation of its use. The findings align with summary data from the World Health Organization for the same time period in Peru.
Ivermectin is a widely-known and inexpensive treatment against parasitic diseases. Scientists believe the drug can also bind to the spike protein of the SARS-CoV-2 virus, limiting its morbidity and infectivity.
Peru Promoted Then Restricted Access to Ivermectin
Before Peru implemented COVID-19 vaccine mandates, the country relied on mitigation strategies such as lockdowns and therapeutics to control the SARS-CoV-2 virus that causes COVID-19, as did many other nations.
The Peruvian Ministry of Health, on May 8, 2020, approved ivermectin widely for use prompting 25 states in Peru to implement inpatient and outpatient treatments with ivermectin to different extents and in different time frames. Additionally, through the Mega-Operación Tayta (MOT)—a national program led by the Ministry of Defense—Peru's government began distributing ivermectin on a wide scale.
Through a partnership with 11 other government agencies, MOT aimed to reach every targeted region with rapid response teams to detect COVID-19 cases, administer ivermectin, and provide food to encourage people to isolate for 15 days. Shortly thereafter, MOT began distributing the therapeutic to everyone identified as high-risk, regardless of whether they tested positive or were symptomatic for COVID-19.
The government of Peru independently tracked daily COVID-19 deaths and all-cause deaths through numerous Peruvian national health databases, allowing researchers to calculate excess deaths. Additionally, they extensively tracked data for deaths and other public health parameters allowing analysis of the potential efficacy of interventions such as ivermectin during the pandemic.
When President Francisco Sagasti took office on Nov. 17, 2020, the government stopped distributing ivermectin and made it available only by prescription. This made the drug significantly more difficult for people to obtain and allowed researchers to see nationwide changes in daily excess all-cause deaths before and after restrictions went into place.
Impact of Ivermectin on Excess Deaths
Excess all-cause deaths were calculated from the total deaths recorded for January through February 2020. During this period, monthly all-cause deaths fluctuated with a mean value of 5.2 percent and a standard deviation of 3.8 percent. By May 2020, total deaths fluctuated by more than double the baseline value calculated in January through February.
An analysis of excess all-cause deaths was performed state-by-state for those aged 60 years and older to establish the date of peak excess deaths during the pandemic's first wave. Decreases in excess deaths from the peak date of death to 30 and 45 days afterward were tracked. The 25 states were then grouped by the extent of ivermectin distribution: maximal distribution—occurring through operation MOT, medium, and minimal.
Results showed that the 10 MOT states had a sharp decrease in excess deaths after reaching peak values—with a 74 percent drop at 30 days and an 86 percent drop at 45 days after the date of peak deaths. For 14 states that locally administered ivermectin, excess deaths dropped by 53 percent at 30 days and 70 percent at 45 days.
In Lima, where ivermectin treatments were delayed until August—four months after its initial pandemic surge in April—excess deaths only dropped by 25 percent at 30 days and 25 percent at 45 days after peak deaths on May 30.
According to the study, mean reductions in excess deaths 30 days after peak deaths were 74 percent, 53 percent, and 25 percent, respectively, for the maximal, medium, and minimal states that distributed ivermectin. Forty-five days after peak deaths, mean reductions were 86 percent, 70 percent, and 25 percent.
The researchers noted that ivermectin distribution may have yielded such positive numbers due to the drug's ability to both prevent and treat COVID-19 when distributed to an at-risk population on a greater scale.
Read more here...
Loading...