---
MSNBC's 'Fitness=Fascism' Article Resurfaces As Rogan And Musk Tweet It Out
Authored by Steve Watson via Summit News,
An MSNBC article from last year that seriously argued being fit and healthy its a 'gateway drug' to becoming a 'Neo-Nazi' has resurfaced after both Joe Rogan and Elon Musk tweeted about how insane it is.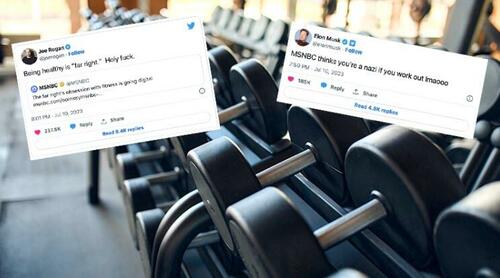 MSNBC 'columnist' Cynthia Miller-Idriss created the ludicrous piece in March of 2022, claiming "the far right has taken advantage of pandemic at-home fitness trends to expand its decade-plus radicalization of physical mixed martial arts."
The writer also pointed to a separate report that claimed "a network of online 'fascist fitness' chat groups on the encrypted platform Telegram are recruiting and radicalizing young men with neo-Nazi and white supremacist extremist ideologies."
"Initially lured with health tips and strategies for positive physical changes, new recruits are later invited to closed chat groups where far-right content is shared," the article continued.
Podcast king Rogan tweeted out a link to the piece Monday:
Being healthy is "far right." Holy fuck. https://t.co/EZ8kqpX3mF

— Joe Rogan (@joerogan) July 10, 2023
Musk then followed up:
MSNBC thinks you're a nazi if you work out lmaooo

— Elon Musk (@elonmusk) July 10, 2023
Grabien media's Tom Elliot noted how being a normal healthy person is now somehow considered weird.
MSNBC Exclusive! We take a deep dive into weird world of "far right" Americans & their bizarre infatuation w/ eating healthy, going outside, staying fit, & having meaningful relationships. https://t.co/8Tppp53nqd

— Tom Elliott (@tomselliott) July 10, 2023
There's always a darker agenda at play:
They want you unfit and at their mercy. pic.twitter.com/oINke49PEs

— Ian Miles Cheong (@stillgray) July 10, 2023
Related:
*  *  *
Brand new merch now available! Get it at https://www.pjwshop.com/
In the age of mass Silicon Valley censorship It is crucial that we stay in touch. We need you to sign up for our free newsletter here. Support our sponsor – Turbo Force – a supercharged boost of clean energy without the comedown.
Also, we urgently need your financial support here.
Loading...