---
Number Of Virus Outbreaks On Cruise Ships Surging: CDC
Authored by Jack Phillips via The Epoch Times,
Data from the U.S. Centers for Disease Control and Prevention (CDC) show that incidence of a common stomach illness is on the rise on cruise ships.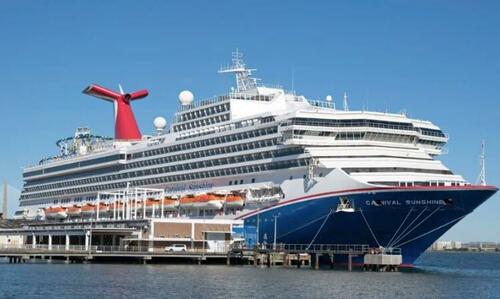 In an update posted several days ago, the federal agency is now listing 13 outbreaks of norovirus on cruise ships this year, which is the highest number of outbreaks recorded on cruises since 2012. The most recent reported norovirus outbreak was on June 20 on a Viking Cruises ship in which about 120 passengers and crew members reported being ill out of about 1,200 people who were on board.
Viking Cruises recently told The Wall Street Journal that it believes the viral outbreak "originated from a shoreside restaurant in Iceland where a group of guests dined during their free time" rather than from someone on the ship.
There were only four norovirus outbreaks on cruise ships during all of 2022, even as demand for cruises surged after COVID-19 pandemic lockdowns.
Federal officials estimate that norovirus infects between 19 million and 21 million people each year on average.
Norovirus is one of the most common viral illnesses on cruises, and it has sometimes been dubbed "the cruise ship virus" owing to widespread media coverage of outbreaks. However, the CDC noted that outbreaks on cruise ships account for a small number of all reported outbreaks of norovirus in the United States.
In May, a Celebrity Cruises trip saw about 152 passengers and 26 crew members get sick with the virus, according to CDC figures. Another case in May also saw 246 passengers and 38 crew contract the virus, the data show.
During a Princess Cruises voyage involving the Ruby Princess, about 10 percent of the 2,881 passengers on board displayed symptoms similar to norovirus, according to the CDC.
It's likely that more outbreaks will be reported in 2023. The Cruise Lines International Association industry group estimates that cruise passenger volume will reach 106 percent of 2019 levels, with some 31.5 million people expecting to take part.
It remains unclear why there's a surge in cases this year. The CDC hasn't issued a comment on the matter, although a spokesperson told CNN that cruise ship travel declined significantly during the pandemic years and that outbreaks were fewer at the time.
The CDC lifted its COVID-19-related risk advisory for cruise travel in March 2022.
"Because cruise ships report illnesses to the CDC, there is more visibility and faster reporting to health authorities, which should not be confused to mean a higher incidence rate onboard," a spokesperson for the Cruise Lines International Association told The Wall Street Journal last month.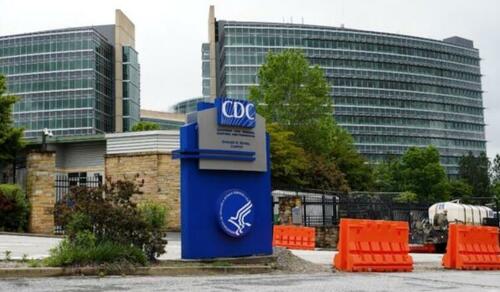 The Centers for Disease Control and Prevention (CDC) headquarters in Atlanta on April 23, 2020. (Tami Chappell/AFP via Getty Images)
The highly contagious pathogen can cause gastroenteritis. Symptoms include diarrhea, vomiting, and stomach pain, and they can appear one to two days after contracting the virus, according to officials.
It's generally spread via the accidental ingestion of small particles of fecal matter, eating food contaminated with the virus, touching contaminated surfaces and then touching the eyes or mouth, or being in direct contact with someone who's sick with the virus, according to officials. The illness is generally more severe in older adults and young children, according to the Arizona Department of Health Services.
Severe cases of the stomach bug can result in dehydration caused by vomiting or diarrhea. However, deaths aren't common.
Officials recommend that passengers on cruise ships wash their hands more than they typically would. They're also advised to stay hydrated on hot days and to avoid consuming uncooked vegetables, fruit with edible skin, and ice.
The CDC also recommends disinfecting surfaces with bleach, handling and preparing food safely by washing fruits and vegetables well, cooking shellfish at a high enough temperature, and washing laundry with hot water.
"This is an extraordinarily contagious virus," Dr. William Schaffner, a professor of infectious diseases at Vanderbilt University, said in a recent interview with CNN.

"It takes but a few normal viral particles to initiate an infection in someone who's exposed. In other words, this doesn't take a large dose; it takes only a little bit."
One thing that passengers can do to mitigate the spread of the virus is to "postpone their trip if they're not feeling well," Mr. Schaffner recommended.
"Try to limit the exposure of others on the front end, and take another cruise a month later," he said.
"You have this highly transmissible virus that's introduced into an environment, the cruise ship, which is ideally designed for the rapid spread of a communicable disease.
"I think a lot of the public don't even understand norovirus, let alone how to begin to protect themselves.
"They're not taking those precautions, those good protection behaviors they learned over the pandemic."
In 2012, the CDC reported 16 outbreaks of the virus on cruise ships, according to reports.
Loading...