---
Silence Around Surgical Errors Is Jeopardizing Patients, Experts Say
Authored by Amy Denney via The Epoch Times (Emphasis ours),
Follow the entire  "What You Need to Know About Surgery" series here.
In this series, we'll share how to determine if your surgery is right for you, how to ask the right questions, and what you can do to prepare and recover optimally
There's a certain logic to doctors who don't disclose their mistakes: their reputation, discipline, and the looming threat of medical malpractice lawsuits incentivize silence. However, patients display an unexpected silence about their own suffering—even when they know mistakes have been made.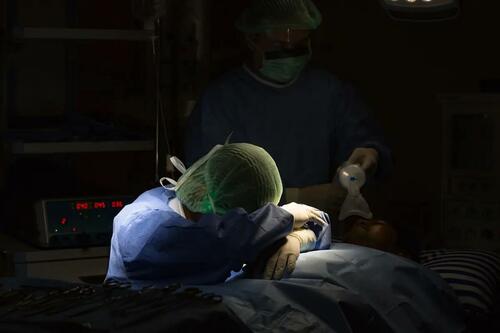 Both problems undermine a patient-focused environment and stifle error reporting that could reduce medical mistakes.
The thought of medical errors isn't likely to be on patients' minds as they're wheeled into an operating room, according to research by the Institute for Healthcare Improvement and National Patient Safety Foundation.
In fact, these watchdog groups discovered in their poll of 2,536 adults that nearly two-thirds of Americans don't believe medical errors are likely to happen to them. The harsh reality is that 21 percent have experienced at least one.
Patient advocacy groups are convinced that speaking up about errors can actually make a difference in lowering systemic risks for everyone who needs surgery. However, many patients don't report mistakes even when they become aware that an error is responsible for their present suffering.
Among the most egregious surgical errors are receiving the wrong operation, having surgery on the wrong body part, having something left inside the body, or surgery for a diagnosis that wasn't correct to begin with.
A Major Cause of Death
It's been 24 years since the Institute of Medicine's "To Err is Human" report was published, drawing broad attention to medical mistakes that kill up to 98,000 Americans annually. The exact number of deaths is controversial, mostly because there isn't a standardized way to collect and report this kind of data. Death certificates don't reliably code medical errors leading to death, further obscuring the problem.
A 2016 study found about 250,000 deaths annually are due to medical error, making it the third leading cause of death in the United States, where it's more problematic than other developed countries.
Louise Aron was injured during surgery—her small intestine was nicked during a liver stent procedure—and she died shortly afterward. Though she had stage 4 colon cancer, the surgery wasn't considered high-risk. The mistake prompted the surgical team to suture her and transfer her to immediate hospice care.
Her daughter, Dr. Rosia Parrish, told The Epoch Times that she's still overwhelmed with regret and sorrow and has yet to review the medical records to understand how the situation was handled.
"The sudden shift to hospice was heartbreaking, as the surgery was initially expected to be life-saving or at least life-extending, but it did not achieve either of these outcomes," she said. "In hindsight, I wish we had chosen a top-tier hospital, even if it meant traveling farther."
Not all errors result in tragedy. Most surgical errors are "near misses," events that could have harmed a patient but by chance or mitigation did not. Surgery accounts for about a quarter of medical errors, but others might involve care received before or after an operation. For instance, medication, communication, and infection are common sources of mistakes outside a surgeon's purview.
Regardless of who's to blame, the lack of accountability—or even acknowledgment—breaks a learning feedback loop that protects patient safety in the future and reduces major catastrophes.
Patients Expect Errors, Not Lies
Perhaps the irony of medical errors is that honesty turns out to be the best policy for hospitals, doctors, and sometimes even patients.
A great deal of research shows that patients who are told about mistakes are more likely to follow medical advice, and continue with care while being less likely to seek malpractice lawsuits, according to "Patient Safety and Quality: An Evidence-Based Handbook for Nurses."
"Patients have the right to know; patients and the public strongly desire disclosure. Failure to disclose mistakes and unanticipated outcomes limits opportunities for evaluation of systems and processes, and for sharing knowledge gained by publishing safety alerts across organizations, conducting educational sessions, modifying practice, and offering opportunities for improved performance," the book states.
Dr. Parrish found herself once again facing the horrors of surgical complications a year after her mother's death when she had an emergency cesarean birth.
In this case, the staff didn't thoroughly review her medical history. Dr. Parrish experienced cardiomegaly (enlarged heart), postpartum hypertension, and nocturnal hypoxia—a condition characterized by low nighttime oxygen levels.
She used an oxygen tank for more than a month, had a series of pulmonology and cardiology appointments for several years, and continues to have no nerve sensation above and below her c-section scar.
In stark contrast to her mother's death after which there were no apologies, Dr. Parrish's hospital provided exceptional postoperative care with additional visits and even provided her with internal medical records that were not part of her file. Apologies facilitated healing.
"I worked with them for approximately six months, and their support was invaluable," she said. "In my case, there were apologies from my main surgeon, who acknowledged the shortcomings of the surgery and the birth. I also processed my birth with my team of midwives as well."
The Problem With 'I'm Sorry'
Many states have "apology laws," which are designed to allow for honest communication between physicians and injured patients.
However, the American Medical Association Journal of Ethics said they don't go far enough. For instance, few states have laws protecting expressions both of sympathy and of fault from being entered into medical malpractice lawsuit evidence. This puts an unofficial gag on doctors, it said.
On the other hand, only 10 states even require physicians to disclose an error to the patient. Some doctors hide behind the fact that the definition of "medical error" is vague.
Adverse events are a type of injury that often happens in surgical treatment that isn't really caused by the underlying medical issue of the patient. Adverse events are preventable, but not all are the result of an error, according to medical error and prevention training for clinicians. Preventable adverse events occur when there is a "failure to follow accepted practices."
There are 29 "serious reportable events," dubbed "never events" for the fact that they should never happen to patients. The list was created in 2006 by the National Quality Forum.
In Search of Better Surgical Centers
Not all hospitals embrace safety enhancements, nor do they rapidly apply new findings found to lower errors. Several volunteer reporting systems have cropped up in an effort to get the stakeholders in the health care system to change their behavior.
That allows patients to get a glimpse of the safety environment before they schedule surgery. The Leapfrog Group, a nonprofit watchdog organization for health care consumers and purchasers, started publicly acknowledging in a searchable database those hospitals that respond to never events in their facilities by:
Reporting the event to at least one reporting program: The Joint Commission on Accreditation of Healthcare Organizations (JCAHO), a state reporting program, or a patient safety organization.
Performing a root cause analysis.
Waiving all costs related to the never event and refraining from seeking reimbursement from the patient or a third-party payer.
Apologizing to the patient and/or family affected.
Sincere apologies can bridge broken trust. Evidence shows patients are most angry when nobody takes responsibility for an adverse event, according to LeapFrog.
"Hospitals often fear that issuing a formal apology opens up a door for malpractice suits. Ironically, research indicates that malpractice suits are often the result of a failure on the hospital's part to communicate openly with the patient and apologize for its error," according to LeapFrog.
The Terror of Errors
In Linda Kehart's case, errors seemed probable but the situation was full of ambiguity, which can be the case with surgery. Risks are heightened when patients are under anesthesia.
In such situations, the only witnesses to errors are the health care team. Fear of negative consequences—retribution, job security, malpractice lawsuits, and reputation damage—might mean providers only report those errors associated with harm or those that can't be "covered up," according to "Patient Safety and Quality."
Earlier this year, Ms. Kehart woke up in an intensive care unit unable to get answers for why she was there after a standard stent procedure.
She was told she needed a longer hospital stay. She thought she overheard someone mention that she had coded—medical language for a cardiac arrest. There was also talk amid staff of contrast dye allergy listed on her chart that she repeatedly told them was an error. Despite large teams of clinicians going in and out of her room, nobody seemed interested in anything she asked.
"This nurse gets three inches from my face and says, 'Mrs. Kehart, I want you to listen to us, be quiet, and do what we say.' I said, 'Excuse me. I may be old but I'm not stupid. Let's talk about what's happening.' And they wouldn't. They said I had to stay but they wouldn't tell me why," Ms. Kehart recalled.
Frustrated by the lack of transparency, she demanded to be discharged. The hospital refused to let her leave in a wheelchair and made her sign paperwork, which later disappeared, on which she wrote that nobody would answer her questions about what transpired during her surgery.
"I expect the care to come from qualified professionals and caring to come from everyone associated with anyone who becomes involved in the health care system. I find both of those challenging right now," said Ms. Kehart, whose career involved work improving access to health care.
The Power of Being Heard
She used her connections and story to challenge the local system. She had never met her surgeon prior to the procedure, and later discovered she had an arterial hematoma, an injury to a blood vessel in her neck. One hospital administrator did ask her to write about how the ordeal made her feel so he could use the example with residents that he teaches.
"I appreciated that attitude. I still have a lot of stress," Ms. Kehart said. "I've had a lot of surgeries, but I've never had any worries before. It's scary now."
Most patients don't believe filing reports will make a difference. Four in 10 of those who didn't report medical errors in the Institute for Healthcare Improvement (IHI) poll said they didn't know how to.
Confusion is understandable. There is no universal system that patients can use for reporting errors. Most states have few guidelines, and the burden of creating a system for reporting errors falls on each individual hospital or health system.
Errors can be reported to the state public health department and the state medical licensing board to make a complaint about a physician, as well as to the Joint Safety Commission, a nonprofit organization that accredits hospitals and is responsible for patient safety.
There are some voluntary reporting systems, too, such as the Institute for Safe Medication Practices, which takes complaints related to medication errors from patients and health care providers.
Uneducated Patients Perpetuate Harm
The burden of patient safety requires a buy-in from the entire surgical team, according to Dr. P.F. Stahel, who authored an essay on patient safety for Bone and Joint. 
Patients are perhaps the less obvious stakeholder, but Dr. Stahel and patient safety groups agree that not speaking up about medical mistakes is a contributing factor to the proliferation of errors.
Research has found that patients who are involved in their care, ask questions, and speak up—having high "health literacy"—can help minimize errors.
However, recognizing when an error has occurred can be challenging. Only one-third of patients have been told that a mistake occurred to them, according to IHI data.
And nearly half of American adults have trouble understanding or using health care information, according to an Institute of Medicine report. This becomes a stumbling block to improving care quality and reducing health costs.
"At some point, most individuals will encounter health information they cannot understand," according to a statement about the report. "Even well-educated people with strong reading and writing skills may have trouble comprehending a medical form or doctor's instructions regarding a drug or procedure."
Empowering Patients to Reduce Surgical Errors
The Joint Commission launched its "Speak Up" program in 2002 in an effort to raise health literacy.
Among its surgical-related advice:
Ask about safety, including requesting that the area on your body being operated on gets marked.
Tell a health care professional if you think they are confusing you with another patient.
Notice whether caregivers have washed their hands, and don't be afraid to remind them.
Make sure nurses and doctors check your wristband identification before treatment or medication.
Write down and keep important information they've shared with you.
Ask a family member or friend to be your advocate.
Ask your surgeon if a "timeout" is performed before surgery. These help mitigate errors by pausing so the team can double-check vital information.
Read the entire  "What You Need to Know About Surgery" series here.
Loading...