---
Walmart Warns Weight-Loss Drug Users Are Eating Less, But Cheez-It Maker Not Giving Up On America's Fatsos
Two months ago, we asked if America's anti-obesity craze courtesy of GLP-1 based weight-loss drugs such as Wegovy and Mounjaro made by Novo Nordisk and Eli Lilly, would lead to a "food revolution", and wrote that "with the US food industry having itself turned fat and lazy, comfortable in assuming that nothing will ever change with America's infatuation with fast food, greasy burgers and fatty and carby junk food, even the smallest deviation could have devastating consequences for a food market that us valued at a little under $1 trillion per year in 2022."
To underscore the potential impact from the growing use of GLP-1 drugs, we linked to a recent Morgan Stanley presentation (available to pro subs) which found that there would likely by a 1.7% reduction (vs baseline) in calories consumed...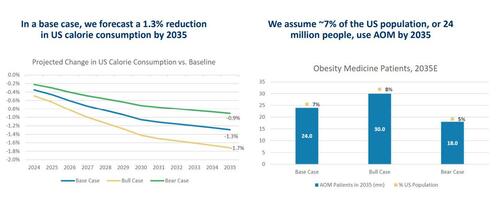 Not surprisingly, MS found a more pronounced impact on certain food categories among those on the weight-loss drugs.
Also not surprising, the biggest losers appear to be fast food and pizza restaurants...
... confections, cookies and salty snacks...
... as well as makers of sugary drinks and snacks.
Well, it didn't take long for corporate America's chronic infatuation with social obesity to blow up and on Wednesday, Walmart warned that it is already seeing an impact on shopping demand from people taking the diabetes drug Ozempic, Wegovy and other appetite-suppressing medications.
"We definitely do see a slight change compared to the total population, we do see a slight pullback in overall basket," John Furner, the chief executive officer of Walmart's sprawling US operation, said in an interview Wednesday. "Just less units, slightly less calories."
America's largest bricks and mortar retailer said it was studying changes in sales patterns using "anonymized" data on shopper populations. The retail giant is comparing shoppers who pick up a prescription for those medications at its pharmacies to shoppers who are otherwise similar but aren't filling those scripts at Walmart. It is then looking for patterns in the spending of those groups, and it says the first group is buying less food.
Doug McMillon, CEO of Walmart, Inc., said in August that the growing popularity of the drugs was helping its sales. although clearly not of high calorie fast foods.
Walmart sells GLP-1 drugs, a category that includes Ozempic, through its pharmacies. In August, it said they were giving the retailer a revenue boost. US sales for those medicines increased 300% between 2020 and 2022, according to a recent report from Trilliant Health.
"We still expect food, consumables, and health and wellness primarily due to the popularity of some GLP-1 drugs to grow as a percent of total in the back half," Walmart CEO Doug McMillon said on a call with analysts in August.
And while an increasing number of CEOs and investors are talking about how popular weight-loss drugs might change the economy and business, with many increasingly worried what the country's significant calorie consumption means for their business (at least until the peasantry runs out of the $1,000 per month it needs to sustain its wegovy habit), some CEOs aren't giving up on the prospect of the obese American fatso with an incurable penchant for cheap junk food.
Earlier this week, the CEO of the maker of Pringles and Cheez-Its said the company is studying their potential impact on dietary behaviors.
"Like everything that potentially impacts our business, we'll look at it, study it and, if necessary, mitigate," Steve Cahillane, the CEO of Kellanova, f/k/a Kelloggs, said in an interview, adding that "We're by no means complacent."
Cahillane called it "very, very early days" for the drug but said the company was studying its potential impact on dietary behaviors so it could respond if necessary.
The pragmatic view, however, is perhaps the best one: Kellanova is looking at potential penetration levels in both the US and other markets, and asked the simplest questions: "Who's gonna cover it? Who's gonna be on it? Do they stay on it?" he said, listing questions the company will try to answer. "There's growing stories about the secondary effects of it, so we're studying that," he added
Finally, there is the extension of the old truism: never bet against the American consumer... and never bet against the American consumer eating all the freely available junk food in their immediate presence.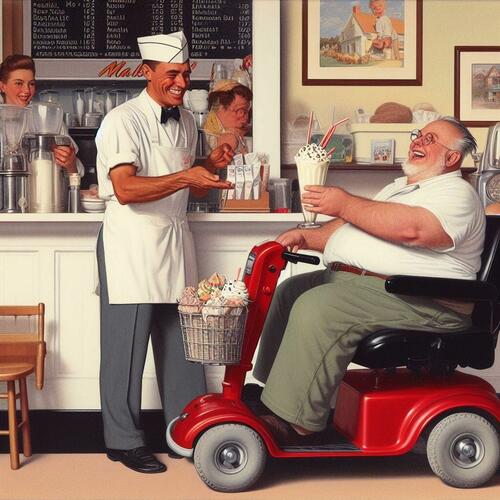 For more, please see "Will America's Anti-Obesity Craze Lead To A Food Revolution".
Loading...