---
After Ukraine Failed To Capitalize On Wagner Turmoil, US Sends $500 Million More In Weapons
Just on the heels of the New York Times' observation that Ukrainian forces failed to capitalize on the weekend turmoil in Russia of the Wagner uprising, the Biden administration announced a new $500 million military aid package on Tuesday.
First, in a Sunday report the NYT cited anonymous "American officials and independent analysts" as acknowledging that "there did not seem to be any immediate defensive gaps to exploit" in Russian lines. They said that "according to a preliminary analysis" no Russian units were pushed back or abandoned their positions in the east and south, despite the Wagner rebellion having been a major distraction for Russian command Friday and Saturday. The US officials went on to say that at least for the near future, the "front lines in Ukraine are likely to remain unchanged."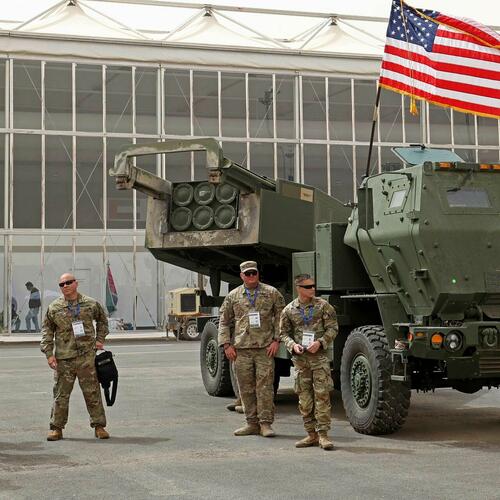 Strangely, one of the arguments that could be heard from Western pundits over the last days is that the Wagner mutiny episode shows that Washington must keep up its support for a "weakened" Russia. On Wednesday, Lithuanian President Gitanas Nauseda commented of Wagner's leader being exiled to Belarus: "If Wagner deploys its serial killers in Belarus, all neighboring countries face even bigger danger of instability," he said after meeting with some NATO allies.
As for the new US aid, it comes after The New York Times tallied that some 17% of the Bradley fighting vehicles already given to Ukraine had been damaged or destroyed thus far. This new half-billion in assistance comes via the Presidential Drawdown Authority (PDA), meaning the new shipments will be taken directly from Pentagon stockpiles. 
Ukraine will surely look to take advantage of the chaos caused by Mr. Prigozhin, but there did not seem to be any immediate defensive gaps to exploit, according to American officials and independent analysts.

And Mr. Prigozhin's march, at least according to a preliminary analysis, did not cause any Russian units on Friday or Saturday to leave their positions in southern or eastern Ukraine to come to Moscow's defense, American officials said. While the drama was unfolding, there was no letup in the war: Russian forces fired more than 50 missiles across Ukraine before dawn on Saturday. — NY Times
Below is the State Department's new talking point of more aid being vital in light of events centered on Wagner:
The state department comes to the conclusion that the attempted coup by Prigozhyn "demonstrates the need to support Ukraine" … is there any event that would not demonstrate that?
— State Department grilled by Liam Cosgrove pic.twitter.com/zwFln1Fy07

— Lord Bebo (@MyLordBebo) June 27, 2023
A Pentagon announcement this week indicated the fresh package will include:
Additional munitions for Patriot air defense systems
Stinger anti-aircraft systems
Additional ammunition for High Mobility Artillery Rocket Systems (HIMARS)
Demolitions munitions and systems for obstacle clearing
Mine clearing equipment
155mm and 105mm artillery rounds
30 Bradley Infantry Fighting Vehicles
25 Stryker Armored Personnel Carriers
Tube-Launched, Optically-Tracked, Wire-Guided (TOW) missiles
Javelin anti-armor systems
AT-4 anti-armor systems
Anti-armor rockets
High-speed Anti-radiation missiles (HARMs)
Precision aerial munitions
Small arms and over 22 million rounds of small arms ammunition and grenades
Thermal imagery systems and night vision devices
Testing and diagnostic equipment to support vehicle maintenance and repair
Spare parts, generators, and other field equipment
Keeping track of the massive US funding and defense aid to Ukraine, which far outpaces all NATO allies..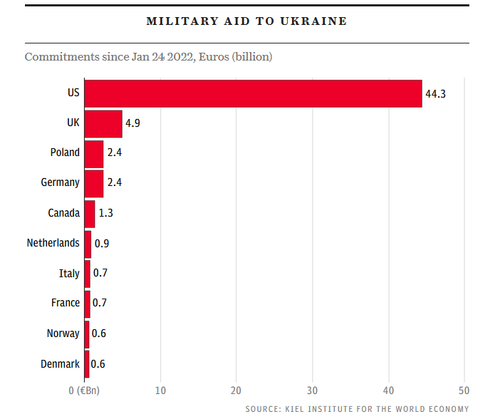 There's lately been controversy over the Pentagon claim of an "accounting error" - which overvalued weapons sent to Ukraine by $6.2 billion. Additionally, concerns over US and Western arms being shipped with lack of oversight and proper tracking haven't gone away, with reports they've even illicitly shown up in the Middle East, in the hands of Israel's enemies.
Loading...