---
America's Largest Aircraft Carrier Docks In Norway For Joint Drills
The US and its NATO partner Norway mounted a show of force aimed at Russia in the North Sea this week, by sailing America's largest aircraft carrier (and also the world's largest)--the USS Gerald R Ford--through the waters where it arrived in Oslo on Wednesday. The allies are expected to conduct naval drills this week.
The nuclear-powered ship entering Oslo's port was a major event, and broadcast live on Norwegian public television, with large crowds gathering to view the spectacle. It was only in May that the US Navy announced it departed Norfolk for its "first combat deployment."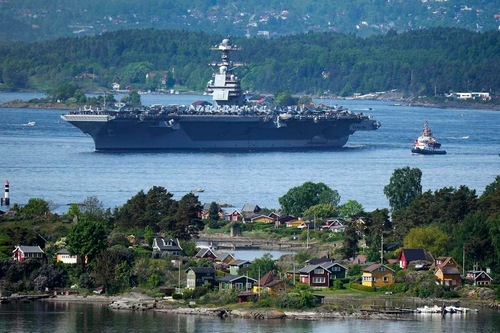 The Norwegian armed forces called the drills "a unique opportunity to further develop cooperation and work more closely with our most important ally, the United States."
Norwegian Defense Minister Bjorn Arild Gram also said, "The fact that a new aircraft carrier is now making its first visit to Norwegian waters is very positive for our cooperation with the Americans."
The country's prime minister, Jonas Gahr Støre, previewed that a stern reaction is expected from Russia. "I don't know, but now we have teased (Russian President Vladimir) Putin even more. It's scary, I think," she told a Norwegian broadcaster.
But the prime minister also vowed that Oslo is "continuing the line we have had in recent years of wanting allied exercises in Norwegian waters."
The Russian Embassy in the country blasted the "illogical... demonstrations of power" in response, which are "harmful." The statement from the Russian side said: 
"There are no issues in the North that require a military solution, nor issues that require outside intervention," Russian Embassy spokesman Timur Chekanov told AFP by email.

"Considering that Oslo admits that Russia poses no direct military threat to Norway, such shows of force seem illogical and harmful," he added.
𝐖𝐨𝐫𝐥𝐝'𝐬 𝐥𝐚𝐫𝐠𝐞𝐬𝐭 𝐧𝐚𝐯𝐚𝐥 𝐯𝐞𝐬𝐬𝐞𝐥 𝐟𝐫𝐨𝐦 𝐔.𝐒. 𝐚𝐫𝐫𝐢𝐯𝐞𝐬 𝐢𝐧 𝐍𝐨𝐫𝐰𝐚𝐲 𝐟𝐨𝐫 𝐍𝐀𝐓𝐎 𝐞𝐱𝐞𝐫𝐜𝐢𝐬𝐞𝐬

On Wednesday, May 24, the massive U.S. aircraft carrier, the USS Gerald R. Ford sailed into Norway to hold NATO exercises with the Norwegian… pic.twitter.com/mrZd3Vd5GG

— TVP World (@TVPWorld_com) May 24, 2023
Regional tensions with Russia among Scandinavian states have risen due to Finland's recently being accepted into formal NATO membership. Sweden has also applied for membership but this has been held up by Turkey.
While the USS Gerald R Ford is off Norway's coast, with about 2,600 naval personnel aboard, boats have been ordered to say a half-mile away from the carrier, and a no-fly zone has been established over the whole area.
Loading...