---
China, Russia Hold Series Of Large Joint Naval & Air Drills Flexing Muscle In Pacific
China and Russia are continuing to display to the world their deepening military cooperation with a series of joint military drills in regional waters, spanning different phases and multiple weeks.
Last week they held their four-day Northern/Interaction-2023 joint exercises in the Sea of Japan. It went through Sunday and was deemed a 'success', but are now quickly pivoting to their third joint naval patrol drills in a row set for this week, this time in western and northern parts of the Pacific Ocean.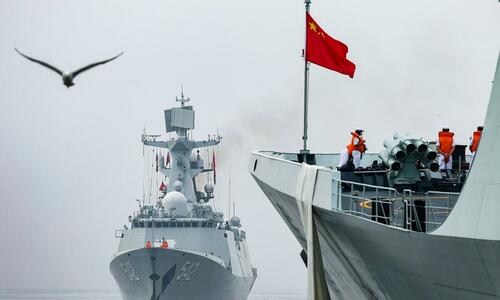 "The drills met the expected goals of deepening mutual trust, enhancing friendship and boosting capabilities," the PLA Navy said of the Sea of Japan portion of the exercises. 

"The exercises marked a major China-Russia joint combat operation in safeguarding the security of strategic maritime routes, as well as an important move in implementing the two militaries' sea-air integrated joint capabilities," said PLA Navy Rear Admiral Qiu Wensheng, as quoted in state media. 
Those exercises in particular emphasized anti-sea mine, anti-aircraft, anti-ship and anti-submarine operations in order to safeguard maritime routes. State media claimed the drills weren't aimed at any outside power, FT has noted.
The increasingly close allies have ramped up their military cooperation and joint drills amid Washington's pressure campaign related to the Ukraine war. At multiple points early in the conflict, Washington went so far as to accuse Beijing of secretly supplying Russia's military for Ukraine operations, but US officials have since backed off pressing the allegations too far. 
State-run Global Times has summarized growing military cooperation of the past few years as follows:
China and Russia have had two joint naval patrols. One came after the Joint Sea-2021 naval drills in 2021, which saw Chinese and Russian navies form a joint flotilla and sail across the Sea of Japan, the West Pacific and the East China Sea in seven days in their first joint naval patrol, marking a circumnavigation around Japan. The other came after the Russia-led Vostok-2022 strategic drills in 2022, also in the Pacific Ocean.

The two countries also regularly hold joint aerial strategic patrols. The sixth patrol was held in June this year.
📹 Enjoy!
MoD RF: " The joint Russian-Chinese drill "Northern/Interaction-2023" has been completed in the Sea of Japan. After the end of the exercise, Russian and Chinese ships set course for Vladivostok.. "https://t.co/LGbmo3wqnv
📹 'Zvezda' pic.twitter.com/nS7Zek6V33

— Massimo Frantarelli (@MrFrantarelli) July 23, 2023
Likely driving their strategic rationale for greater cooperation is not only the increased US naval presence connected with supporting Taiwan, but Japan's closer relations to NATO. China has also resisted US-EU pressure to take a firm line condemning the invasion of Ukraine.
President Xi Jinping is expected to visit Russia to meet with his counterpart Vladimir Putin in October, the Kremlin announced this week after the formal invitation was sent out.
Loading...