---
In First, US Deployed AC-130 Gunship To Attack Pro-Iran Militants In Iraq
The US deployed an AC-130 gunship over Iraqi territory in response to fresh attacks by Iranian-backed militia fighters who attacked an air base west of Baghdad housing US troops. The incident happened Monday night but was revealed in a Tuesday Pentagon briefing.
"Ain al-Asad air base was attacked by a close-range ballistic missile that resulted in eight injuries and minor damage to infrastructure, two U.S. officials said," as cited in international reports.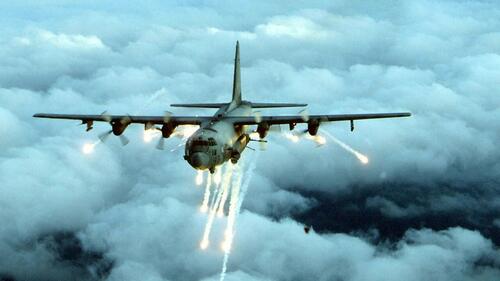 Already the Pentagon had said at least 60 personnel had suffered minor injuries or in some cases 'traumatic brain injury' in dozens of attacks going back to mid-October. 
Pentagon spokesperson Sabrina Singh confirmed in a Tuesday press briefing, "The United States responded using an AC-130 aircraft already in the air and it hit an Iranian-backed militia vehicle and a number of personnel involved in the attack."
She described that the AC-130 was able to track the point of origin for the attack in real-time, resulting in firing back on the militants' positions.
Singh said that this is the first publicly revealed US military retaliation on Iraqi soil in response to the recent spate of attacks. She indicated there have been other instances which haven't been disclosed.
The Pentagon has responded in three major instances against militant groups in Eastern Syria, after a series of attacks on small US bases there. 
Currently the US has an estimated 900 troops in Syria and 2,500 in Iraq. However, there are likely thousands more private military contractors and intelligence and State Dept personnel in both countries as well.
Breaking details from DOD

🇺🇸AC-130 Ghostrider gunship engaged Iranian-backed militias who launched close-range ballistic missiles at U.S. forces in Iraq:

- Confirmed: Attack last night using close-range ballistic missiles (for the first time) against U.S. + coalition forces at… pic.twitter.com/pBrVadSbkU

— Ian Ellis (@ianellisjones) November 21, 2023
Both the Syrian and Iranian governments, as well as Russia, have condemned the US troops presence in Syria as an illegal occupation and resource theft, considering also the US has control of Syria's oil and gas regions. The US has meanwhile sought to justify it by framing it as a 'counter ISIS' mission or else to 'counter Iranian influence'.
Loading...