---
Iran Unveils New Drone Rivaling US MQ-9 Reaper & Capable Of Reaching Israel
This week Iran's military unveiled a drone which it says rivals the United States' MQ-9 Reaper drone, touting the aircraft as easily capable of reaching Tehran's number one enemy Israel.
The Islamic Republic claims the new Mohajer-10 drone can stay continually airborne for 24 hours, and showcased it as the Defense Industry Day conference on Tuesday.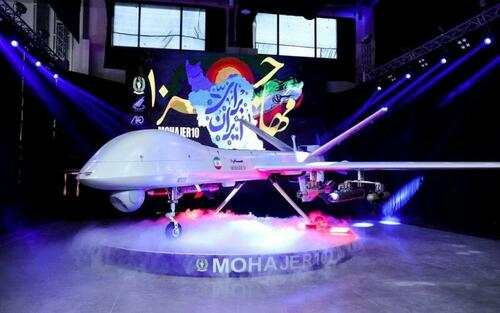 Iranian President Ebrahim Raisi attended the conference in person in order to inspect the drone, and hailed that it will "firmly introduce Iran as an advanced and technologic nation to the world."
According to regional reporting, "The Islamic Republic's media outlets claimed the drone can fly up to 24,000 feet with a speed of 210 kph carrying a bomb payload of up to 300 kilograms. The drone can also allegedly hold electronic surveillance equipment and a camera."
However, some Western analysts have expressed skepticism, particularly regarding the claim that it mirrors the capabilities of the MQ-9 Reaper.
Steve Bucci, a former Pentagon official, told The Foreign Desk publication that the Iranians "tend to exaggerate a lot, so I will assume that while it may look like a Reaper, I doubt it is as capable."
Al Jazeera writes that "media reports said the drone can travel non-stop at an altitude of 7,000 metres (4,350ft) for up to 2,000km (1,242 miles), meaning that it could reach Israel."
But there does remain consensus that Iran's drone program is generally very capable, also given the heavy reliance on Iran-produced drones by Russian forces operating in Ukraine. 
New footage released by the Islamic Republic's state media...
Iran today unveiled the latest entry in its Mohajer drones - Mohajer 10. It has a reported operational range of 2,000 km.

State media have released the video below. The text in Persian and Hebrew at about 9 second in reads: "Prepare your bunkers". pic.twitter.com/ji5wyFgOqs

— Kian Sharifi (@KianSharifi) August 22, 2023
It's also long been known that Iran's ballistic missiles are quite advanced, and these have been subject of intense debate alongside Iran's nuclear program.
Iran and Israel are still engaged in a proxy war inside Syria, where Israeli air attacks frequently target both Syrian and Iranian military positions, especially in and around Damascus and the south.
Loading...