---
Pentagon Lays Out 4 Military Objectives For Middle East Amid Force Build-Up
Authored by Kyle Anzalone via The Libertarian Institute,
A Department of Defense spokesman explained Washington's current goals in the Middle East. Since Israel launched a massive military operation in Gaza, the US has deployed thousands of troops and a large host of naval ships to the region. 
According to a press release outlining Gen. Pat Ryder's statement, the Pentagon's four priorities for the Middle East currently are: 
"Protection of US forces and citizens in the region."

"Flow of critical security assistance to Israel as it defends against further Hamas terrorist attacks." 

"Coordination with the Israelis to help secure the release of hostages held by Hamas, to include American citizens."

"Strengthening of force posture across the region to deter any state or nonstate actors from escalating the crisis beyond Gaza."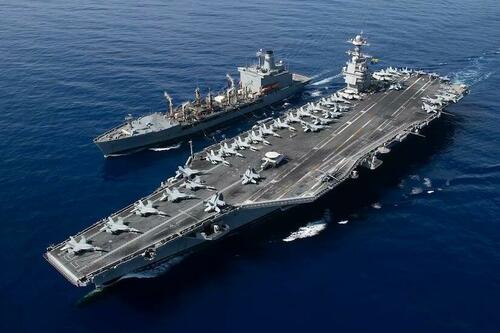 On October 7, Hamas launched an attack in southern Israel that killed over 1,000 people. Israel responded with a massive bombing campaign that killed 10,000 civilians, including 4,000 children, in the past month. 
President Joe Biden has traveled to Israel, and the White House has offered full-throated support for Tel Aviv's military operation in Gaza. While American officials have admitted that the Israeli operations have killed many thousands of civilians, the White House refused to call for a cease-fire or condition American weapons transfers to Israel on reducing civilian casualties.
US forces in the region have come under attacks from local military groups that view Washington's support for Tel Aviv as crucial to Israel's military operations in Gaza. Over the past month, various groups have conducted 38 attacks on American soldiers, injuring at least 45 troops.
In response to the attacks on US soldiers, the Pentagon has deployed more military assets to the region, including thousands of troops, two aircraft carrier strike groups, and a nuclear-powered submarine. 
Additionally, on Wednesday, US Central Command announced it had conducted two show of force operations with B1-B Lancer bombers in three days. "For the second time in three days, a US B-1 Lancer conducted a mission over the Middle East area of responsibility. US F-16s escorted the bomber," CENTCOM posted on X. 
The leader of Hezbollah, Hassan Nasrallah, threatened to attack the American ships in the region if a more expansive war broke out. "Since the outbreak of the war, the US has threatened to bomb us in Lebanon from its military ships in the Mediterranean. We are prepared for whatever scenario," he said in a speech last week. "If an all-out war breaks out, you Americans will pay with your ships, your aircraft, and your soldiers." 
While the Biden administration has sought to secure the release of American citizens who are held hostage by Hamas in Gaza, Tel Aviv has rejected pauses in the fighting to facilitate prisoner swap negotiations.
Loading...