---
Poland Approves Framework For Record $10 Billion HIMARS Purchase
Authored by Kyle Anzalone via The Libertarian Institute,
Warsaw took another step towards buying nearly 500 HIMARS launchers manufactured by Lockheed Martin. The sale is part of Poland's massive military buildup.
On Monday, Polish Defense Minister Mariusz Błaszczak announced the framework of the acquisition. "In line with the adopted schedule, deliveries are expected to begin in 2025," a press release said.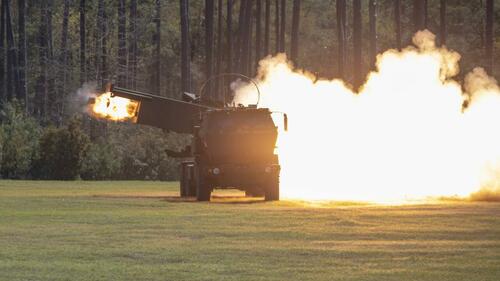 In February, the US State Department approved a $10 billion sale in HIMARS and parts to Poland. Błaszczak discussed the HIMARS Launcher Loader Module kits, the portion of the weapon that fires missiles.
Warsaw is only buying 18 launchers mounted onto carriers - suggesting Poland plans to equip the launchers on domestic platforms. 
Additionally, Warsaw will work to develop its own production lines for making HIMARS munitions. The Polish Defense Ministry said the purchase "foresees transfer of technology," including "the acquisition of the technology of the selected rocket used by HIMARS systems."
Buying hundreds of HIMARS is part of Poland's plan to create the most powerful army in Europe. Last week, Poland's Deputy Prime Minister Jarosław Kaczyński issued a letter to the International Defense Industry Exhibition being held in Poland this week. "In two years, we will have the strongest land army in Europe," he declared.
Separately on Monday the following was approved: "The State Department has approved a potential $4 billion foreign military sale of Patriot Configuration-3+ equipped with the Integrated Air and Missile Defense Battle Command System and related equipment to the government of Poland."
The buildup calls for Poland to spend over three percent of GDP on military spending. Polish military expert Robert Czulda, a Resident Fellow at the Casimir Pulaski Foundation, warns the policy could have consequences for Warsaw.
Reading that Poland will purchase 486 HIMARS systems from the United States

So why can't Russia buy weapons from China via North Korea? pic.twitter.com/n7c7rhQmLx

— Russian Market (@runews) September 11, 2023
"It seems highly likely that such a large scale of planned orders is largely driven by a political populism, aimed at gaining popularity here and now, rather than to be a real, comprehensive, and well-thought-out plan for harmoniously strengthening the armed forces," he wrote.
"Poland should ensure that these procurement programs are sustainable and affordable in the long term. The country should avoid a risk of overspending, which now seems very high."
Loading...