---
Russia Has 'Harassed' US Drones In Syria For 3 Straight Days: Pentagon
The Pentagon has again complained that Russian fighter jets have dangerously interfered with US drone operations over Syria, in what marks the third such incident in as many days.
"Three MQ-9 Reaper drones the U.S. military said had been 'harassed' by Russian fighter jets over Syria on Friday were the same drones that later carried out an airstrike that killed a top Islamic State group leader," US Central Command said Sunday.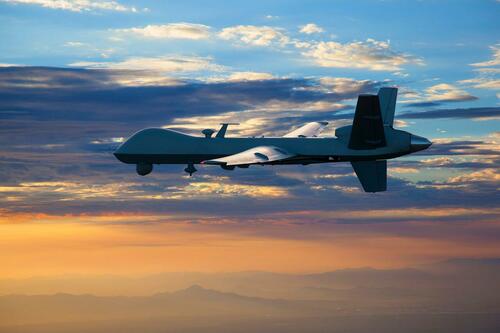 The incident reportedly happened Friday, the same day that CENTCOM says it killed ISIS leader Usama-al-Muhajir.
The Pentagon had in the two days prior, on Wednesday and Friday, also alleged Russian jets 'harassed' US drones which were actively engaged in counter-ISIS operations. 
"The strike on Friday was conducted by the same MQ-9s that had, earlier in the day, been harassed by Russian aircraft in an encounter that had lasted almost two hours," the Sunday CENTCOM statement said.
The US has once again blasted the "unsafe and unprofessional" behavior of the Russian pilots. ABC News noted the following after the latest incident: 
There was a third straight day of interactions between Russian fighters and U.S. drones on Friday when U.S. Air Forces Central said "Russian aircraft flew 18 unprofessional close passes that caused the MQ-9s to react to avoid unsafe situations."
The Pentagon has at this point declassified two videos which it says supports its assessment of Russian aerial aggression aimed at disrupting American drone flights over Syria. 
Russian jet dropping flares in vicinity of a US drone in Syria. pic.twitter.com/Sr53fajBqx

— Spriter Team (@SpriterTeam) July 6, 2023
These 'harassment' episodes over Syria appear very similar to the March 14, 2023 event which resulted in an American MQ-9 Reaper drone crashing into the Black Sea. A Russian Su-27 fighter jet had intercepted and damaged the drone, at one point dumping fuel on it in mid-air flight.
In Syria, the US administration has justified any and all US military actions as based on "countering ISIS" - even though the Islamic State has long been driven underground and was defeated. Russia and Syria have charged that the US really just wants to steal Syria's oil and gas resources, as part of the continued economic war against Damascus. The Pentagon has also lately been reemphasizing this counter-ISIS mission: "We urge Russian forces in Syria to cease this reckless behavior and adhere to the standards of behavior expected of a professional air force so we can resume our focus on the enduring defeat of ISIS," it said.
US confirms target killed in Syria drone strike two days ago was an ISIS leader.

Release notes that Russian aircraft "harassed" the US drone used in the strike; fails to mention that target had been living comfortably in Bza'a, which is controlled by NATO ally Turkey. pic.twitter.com/U5bn6UaYNm

— Lindsey Snell (@LindseySnell) July 9, 2023
But Damascus, Moscow, and Tehran have pointed out that ISIS grew out of the NATO-Gulf regime change efforts to oust Assad, which started in 2011 and 2012, destroying much of Syria and resulting in mass killings.
Loading...