---
Russia Raises Military Salaries By 10.5% In Effort To Shore Up Loyalty, Morale
The government of Vladimir Putin is taking serious measures to ensure stability of its armed forces and a return to normalcy after cracks appeared due to the dramatic events of last weekend, when Wagner Group under now exiled Yevgeny Prigozhin mounted an armed mutiny, seeking to overthrow military leadership. 
Bloomberg is reporting Friday the Kremlin has authorized a significant boost to salaries across the national armed forces, writing that "The Russian government will increase salaries for military servicemen by 10.5% from Oct. 1, a government decree published on the official web portal showed on Friday."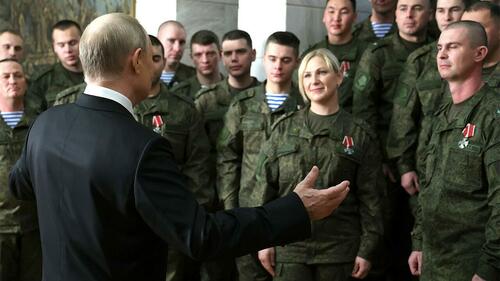 The report specifically cites the short-lived uprising by the mercenaries which had previously been instrumental to Russian operations in Ukraine. "The move comes days after an abortive armed mutiny by the mercenary Wagner Group, which briefly took control of the southern Russian city of Rostov-on-Don and marched towards Moscow," Bloomberg continues.
Further underscoring that this measure is geared toward boosting morale and bolstering loyalty at a sensitive moment, UK Defense and Security Analyst Professor Michael Clarke has highlighted in the wake of the decision that Russia has been having "a real problem with pay" for troops.
It must also be remembered that for months prior to the Wagner's revolt, Prigozhin had been loudly calling out the "incompetence and corruption" of the military's top leadership, going after defense minister Sergei Shoigu in particular.
Currently, there is widespread reporting that Gen. Sergei Surovikin, the deputy commander of the Russian forces fighting in Ukraine, has been detained in relation to the Wagner uprising. The New York Times and others days ago alleged, based on anonymous US intelligence officials, that Surovikin had foreknowledge of the Wagner rebellion, and suggested he may have even helped, in a move against Putin's grip on power. 
Interestingly, former President Trump weighed in on the whole saga, saying in a fresh interview with Reuters that Putin has been "somewhat weakened" by the mutiny, but also said the Russian president is "still strong". 
"You could say that (Putin is) still there, he's still strong, but he certainly has been — I would say — somewhat weakened, at least in the minds of a lot of people," Trump concluded. The GOP presidential hopeful has lately touted that if he were president, he would negotiate a end to the war within 24 hours.
Throughout the conflict, there have been periodic rumors that Putin will authorize another big round of conscription and 'national mobilization'. There have also been widespread reports of huge numbers of troop deaths, in the tens of thousands, but confirmed casualty figures haven't been forthcoming from either side of the war.
Prigozhin himself had highlighted this in the days and weeks before the Wagner mutiny, and even questioned the decision to go to invade Ukraine in the first place.
Loading...