---
US Pacific Fleet Roasted For Tweeting July 4 Graphic With Russian Jets, Ship
In the latest eye-rolling example of government incompetence, the US Navy's Pacific Fleet tweeted a Fourth of July graphic with the intent of honoring the American military -- but accidentally saluted Russia's instead. 
The since-deleted tweet featured the silhouettes of five military aircraft flying in formation over a surface ship: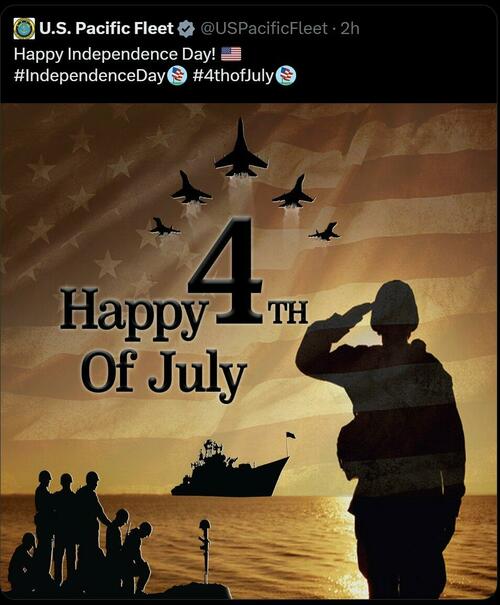 However, eagle-eyed US service members and vets promptly realized the image featured Russian fighters and a Russian destroyer.  
The graphic also depicted soldiers bowing in front of a fallen comrade. Here, the Pentagon's diversity-hire graphic designer got lucky and diverted from the heavy Russian theme, properly using the silhouette of an M-16 and not an AK-47. 
Pacific Fleet didn't respond to questions about the sloppy execution from Stars and Stripes. Then again, the inquiry was made on July 4th, so it's likely the fleet's public affairs officers were off somewhere together having a Bud Light blowout.  
Blake Herzinger, a US Navy Reserve Lieutenant Commander and former active-duty intelligence officer, was among the earliest to spot to spot the snafu. Herzinger, who's been dabbling on a Substack newsletter about the Navy called "Sailor Take Warning," summarized the mess by tweeting: "US Pacific Fleet Don't Post Russian Ships and Aircraft on Independence Day Challenge 2023: Failed." 
In the ensuing reply thread, Herzinger credited a Twitter user -- whose bio says he's a retired Indian Navy commodore -- as having identified the silhouetted ship as a Kashin-class destroyer: 
Recce prize goes to @vgmenon99! Kashin-class DDG, no longer in service in Russia but several still in the Indian Navy's stable. pic.twitter.com/2cIOFSiXil

— Blake Herzinger (@BDHerzinger) July 4, 2023
Others identified the jets as SU-27 Flanker fighters. 
@USPacificFleet switched to Russian aircraft and ships!

Transgender designers prepared really great holiday card.

- In the center: Kashin-class Destroyer, project 61M.
- Above: the Su-27 Flanker-class fighters.

Congratulations to American partners! pic.twitter.com/TJL1NgijpT

— Ukraine&Syria frontlines (@SyriaWarReports) July 4, 2023
The screw-up comes as the Navy recruiting operation is in full-on crisis mode. With the branch forecasting that it will fall 16% short of its fiscal 2023 recruiting goal, the head of Navy Recruiting Command recently announced he was going to force thousands of recruiters to start working six-day workweeks, characterizing it as "a warfighting imperative." He was quickly overruled, as the Chief of Navy Personnel said one day later that he was putting the plan on hold.  
Twitter users unleashed a few broadsides...
In their defense, they're doing the whole "Inclusion" thing. Just glad they listened and left out the CCP flag.

— Abe Froman™🇺🇸 (@WerIstDeinPa) July 4, 2023
The U.S. has a defense budget approaching a trillion dollars a year but can't afford a competent graphic designer. 😂😂😂

In a now deleted Tweet the US Pacific fleet wished everyone a Happy Independence Day with a cool graphic featuring Su-27 fighters and a silhouette of a… pic.twitter.com/lvQnyKErxU

— Chebureki Man (@CheburekiMan) July 4, 2023
Pacific Fleet scrambled to delete the tweet and replace it with one that used a photograph of a US aircraft carrier and submarine as the backdrop:  
Happy Independence Day! Celebrating life, liberty, and the pursuit of happiness for 247 years, and those who stand to protect. 🇺🇸#IndependenceDay #4thofJuly #USNavy pic.twitter.com/9hTMqmKJCc

— U.S. Pacific Fleet (@USPacificFleet) July 4, 2023
However, the replacement tweet was subjected to its own ridicule: 
The USS Rustoleum.... pic.twitter.com/s0hH4sr2nQ

— Bill Juftes (@BillJuftes) July 4, 2023
How embarrassing. Why don't you paint that rust bucket and show it the respect it deserves. Spending all your money on diversity?

— ThatGuy (@0BrianDavidson0) July 4, 2023
Loading...