---
Wagner Chief Says Moscow Agreed To More Arms After Threats To Quit Bakhmut
Exactly one week ago Wagner chief Yevgeny Prigozhin first threatened that he and his men would withdraw from the strategic city of Bakhmut, where Russia appears close to victory given it controls at least 90% of the city, if the Russian defense ministry didn't immediately supply all the arms needed to keep up the offensive. 
"I am appealing to Sergei Shoigu with a request to issue ammunition immediately," he said at the time in reference to Russia's defense minister. "Now if this is refused … I deem it necessary to inform the commander-in-chief about the existing problems, and to make a decision regarding the feasibility of continuing to station units in the settlement of Bakhmut, given the current shortage of ammunition," Prigozhin warned in video statements. He had cited "useless and unjustified" losses due to lack of regular supplies.
On Friday he followed by narrowing his threat, setting a withdrawal date of May 10 if the necessary arms and ammo didn't come through. It was a surprising move given it was a very direct and open challenge to the top military leadership of Russia. Likely, President Putin himself was forced to "decide" on who to back in the spat: Prigozhin and his frontline Wagner fighters, or the regular chain of command.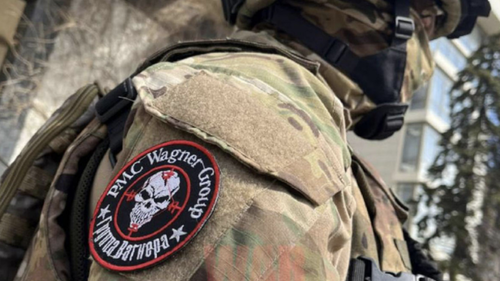 But in a new audio clip posted to Telegram on Sunday, Prigozhin announced he received overnight notification that he'll be getting all the ammunition needed. The Washington Post reports of his words:
"We are promised to be given ammunition and weapons as much as we need to continue further actions," Prigozhin said, adding that he had been granted the power to fight "as we see fit."

The internal feud over military tactics in Bakhmut, which Russian forces have been trying to seize since last year, is a flash point in the broader rift with Moscow's defense ministry that has played out in increasingly public view over recent months.
Prigozhin had already threatened to quit Bakhmut before - but if this happened it would be a huge blow to the Russian advance in Donetsk to overall war objectives. There's growing speculation that this rift has sparked elite infighting within the halls of the Kremlin.
He has repeatedly charged the regular military command with "betraying" his fighters by withholding ammunition in the ongoing spat which became public with the Russian seizure of Soledar. A Wagner statement at the time declared victory over the city for itself, but controversially didn't acknowledge the role of the regular military. The infighting has increasingly been out in the open since then, and is no doubt somewhat of an embarrassment while facing down NATO and the Western allies.
The whole episode shows that indeed Prigozhin is a very powerful individual when it comes to Kremlin influence. Clearly he still has Putin's ear as he is the proverbial horse being backed as the fight for Bakhmut is in its end phase. This even after he posted the below rant which called out the defense minister and top armed forces commander by names:
Wagner PMC's Prigozhin has lost it. Hard not to interpret this as a declaration of war against Russia's Defence Minister Shoigu and Armed Forces Chief Gerasimov. Yesterday, Wind of Change mentioned that FSB resources are being diverted to prevent a coup. pic.twitter.com/MvMs3el5YG

— Igor Sushko (@igorsushko) May 4, 2023
Russia appears to be scrambling to deliver total victory in Bakhmut before Russia's 'Victory Day' celebrations on May 9, but that could still prove a tall order as the ferocity of the remnant Ukrainian defenses hasn't let up. Prigozhin now says Russia holds 95% of the city.
Loading...