---
Worse Than Bud Light: Lululemon's Sponsoring A Festival Featuring Children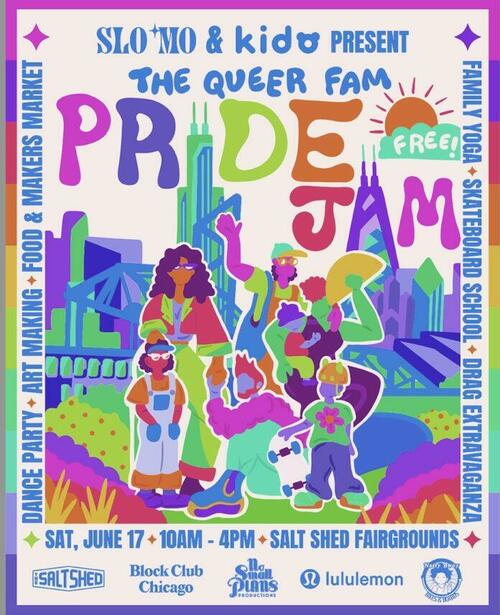 At Least Bud Light Targets Adults
When Bud Light partnered with gay transvestite Dylan Mulvaney, the biggest victim was Bud Light. Since alcoholic beverages advertise to adults, children weren't targeted by "Tranheuser Busch". The Queer Fam Pride Jam happening in Chicago next week is something else: it's cohosted by a "queer dance party" and a children's boutique. And one of its co-sponsors is Lululemon Athletica (LULU), the athletic apparel retailer famous for firing its employees for trying to stop shoplifters. 
A friend of ours, David Janello, PhD, CFA, elaborated on this in a post we'll share below. In addition to being a concerned Chicago resident, David also runs an options trading platform called SpreadHunter, so he looks at whether it makes sense to use options to bet against LULU here. Before we get to it, a quick trading note of our own. 
Wednesday Trading Note
We have a bearish trade teed up for a company releasing earnings before the close tomorrow, so if you're subscribed to our trading Substack/occasional email list, keep an eye out for our trade alert. If you're not subscribed, feel free to subscribe below. 
Now onto our Chicago friend's post. 
Authored by David Janello, PhD, CFA 
Is Lululemon the Next Woke Short?
If you missed out on big moves down in Anheuser Busch (BUD) and Target (TGT), you might have another candidate for the Get Woke Go Broke trade: yoga and fitness retailer Lululemon Athletica, Inc (LULU).  Although selling stock short is far too risky for most investors, we'll take a look at some limited risk options trades in a bit that will have huge payouts if LULU implodes.
What could trigger the decline this time? Like BUD and TGT, it looks like LULU is playing with the same combustible mixture of transgenderism and kids that corporations can't seem to get enough of lately.  Here is where Lululemon is investing their marketing budget into this month:
Kids can paint their faces like drag queens, learn moves from a house music choreographer and then join an all-ages dance party this June at a new, LGBTQ family-friendly Pride festival.
Interested readers can get all the details here.
Given the negative, multi-billion dollar market impact of a single transexual image on a beer can, one wonders what is going on at senior management that makes them go out of their way to double and triple down on previous marketing disasters.  Especially when they backtrack on their initial message and get boycotted or receive bomb threats from the LGBTQ groups they once pretended to endorse.
While we will probably never know what goes on inside the corporate sanctums that make these decisions, we can get a pretty good idea as to which trades work when corporate strategy goes haywire and sales and market cap to go over a cliff. 
Potential Trade Ideas
We mentioned earlier that selling stock short has unlimited risk which is too high for most investors. This leaves Long Put Options and Long Put vertical spreads as the leading candidates to capture big moves down in a short time period. 
Looking at the options matrix for LULU, the high price of put options makes vertical spreads attractive.
One example is the 280-290 strike Long Put Vertical trading expiring Sept 21 quoted at 0.97.  A 21% move down to 280 generates a 900% return at expiration if LULU performs in a similar way to TGT and BUD.  The downside of the big payout is a 100% loss if LULU is trading anywhere above 290 at expiration. More conservative investors may prefer higher strikes at the cost of higher spread prices and lower maximum return.
That being said, there are a number of factors that argue against a high risk options trade against Lululemon.  Their core demographic of affluent women aren't exactly the type to lead a boycott against a major brand. "Chicks have been tricked into being pro-trans" explained one leading financial analyst. We can also assume that Lululemon ran the event through various state-of-the-art Machine Learning and AI models to see its market impact and came out with a favorable answer.  Finally, consumers might be getting burned out by the sheer number of companies to boycott.
Why You Should Probably Pass
Weighing the evidence pro and con, it looks (alas) like betting against Lululemon is a losing trade.  Demographics is destiny.  In this instance, get woke does not go broke.
The good news is, that the options strategies we looked at earlier work well for corporate disasters of all types, not just those involving woke themes.  Rest assured, somewhere right now, in a boardroom far away, corporate insiders are hard at work drawing up the next disaster that will generate huge profits for the prepared investor.
Contributor posts published on Zero Hedge do not necessarily represent the views and opinions of Zero Hedge, and are not selected, edited or screened by Zero Hedge editors.
Loading...