---
Podcast: Hartnett Says Stocks May "Pop & Bust" After Last Fed Hike
Authored by GoldFix ZH Edit
Report Overview:
Weekly data indicates Hartnett's "sell the last hike" idea is tracking. Works with  ZeroHedge's "Nyet Zero": Hartnett Warns The Nasdaq Just Peaked..
The meat of the analysis starts at 6:30 time. Highlighted sections **labeled**. Run time 36:17.
Podcast Topics:
0:35- Context/ The story so far
4:55- Net Zero will not happen
6:15- Scores on the Doors
7:30- Double Top technicals confirm the path
10:30-Central Bank and Tech stock correlation analysis
***14:10- The Biggest Picture- main idea described ***

How we got to this
economic challenges for East and West are supply chains vs value chains
Deglobalization and mercantilism means reshore, onshore, repatriate, rebuild

20:45- Weekly flows, EM debt
***22:30- Real vs Financial Assets turn around is now***

Redistribute, rebuild implications
Politics driving policy
Populism, fiscal conservatives, and Trump
Buffet Epiphany…

26:00- Housing market analysis
28: 05- What Hartnett focuses on in Housing
28:40- Hartnett's Global Macro:

Asian demand » Asian productivity» US demand still
Services drop off in Asia is a sign as well.

31:00- US vs ROW stock valuations
4200 remains key
***32:45- Bubble and Boom to Pop and Bust***

How it was
How it is changing
How it manifests- Inflationary headwinds

34:40- Sell the last rate hike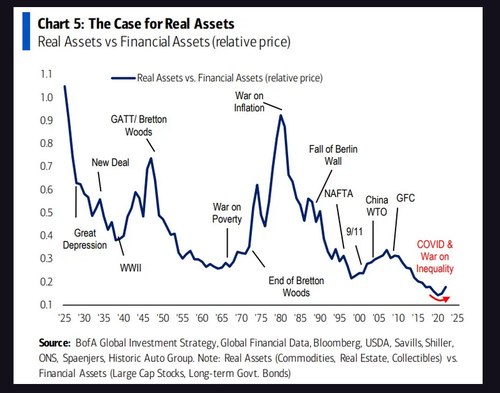 Related: Brics Summit, Great Reset Update, Best of the Week
---
Free Posts To Your Mailbox
Contributor posts published on Zero Hedge do not necessarily represent the views and opinions of Zero Hedge, and are not selected, edited or screened by Zero Hedge editors.
Loading...