---
Bud Light's Latest Attempt To Revive Its Brand Backfires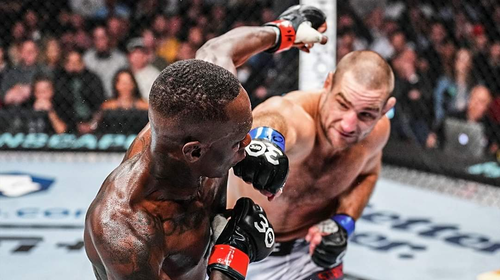 Bud Light's UFC Sponsorship Backfires 
In its latest attempt to dig out from its Dylan Mulvaney disaster, Anheuser-Busch (BUD) spent a rumored $100 million for Bud Light to become the official beer of the UFC. Unfortunately for Bud Light, the brand just ate a metaphorical knuckle sandwich from the promotion's most outspoken champion, Sean Strickland. 
Meet Sean Strickland 
For those unfamiliar with the UFC, Sean Strickland is an unlikely champion. He only got a shot at the title in September as a late replacement, when the number one contender backed out. Strickland then proceeded to knock down then-champion Israel Adesanya for the first time in his career, on his way to winning the title by a unanimous decision. 
Becoming the UFC Middleweight Champion didn't do anything to dampen Strickland's previous outspokenness or willingness to wade into controversy, regardless of the subject, from the Mideast conflict...
Israel needs to follow Russias lead.. Go in there wipe out Hamas put in a dictator in who technically is a palestinian.. kinda... Give him money. Tell him to keep shit in line and if he doesn't ... Kill him and put someone else in...

It works. It's been proven to work..

— Sean Strickland (@SStricklandMMA) October 11, 2023
To the homeless...
Ok no more politics. Sorry guys

Anyways fuck the homeless, just went to the apartment complex pool to see my girl and there is this dirty fucking homeless POS there charging his phone.

See something.. say something. hit a homeless man.. be part of the solution not the problem

— Sean Strickland (@SStricklandMMA) October 11, 2023
Now that you have a sense of the man, let's look at what he's said about Bud Light. 
Sean Strickland Versus Bud Light
When asked on X whether he'd promote Bud Light after news of their UFC sponsorship broke, Strickland reiterated his view that transgenderism is a mental illness. 
Well good point. Here's the thing, women are born not made, transgenders are mentally ill and society should never accept this as normal.

Now budlight gives me money.. and I just said that... I've been saying it my entire career... so? What do they support? https://t.co/mKGvlp26Ns

— Sean Strickland (@SStricklandMMA) October 26, 2023
Strickland then promised to put Bud Light on the spot during his next fight: 
I really want a budlight sponsorship. Yes I like money but I think it's a story of redemption... Either way I'll go so hard on them my next fight they will have to accept me or denounce me then we will know what they stand for.

— Sean Strickland (@SStricklandMMA) October 27, 2023
Strickland then went viral with this video rant he recorded on his way to the gym, ironically congratulating Bud Light and offering to help "fix" the brand:
I am so f*cking proud of you guys for doing the right things after that f*ck up. You know how I feel about transgenders. I go f*cking hard. Just what I do. I am the biggest advocate of biological females. If I said my views on transgenders, I would get kicked off Instagram, but I cannot f*cking wait to pick up a big old f*cking Bud Light can and fix you, Bud Light because you guys are doing the right f*cking thing. I, Sean Strickland, a representation of the f*cking American people, are going to fix you Bud Light. Thank you for giving me money. Thank you for supporting my platform. I'm going to help you guys
You can watch Strickland give that soliloquy here: 
Anheuser-Busch Releases Earnings 
As we type this early Tuesday morning, Bud Light's parent has already reported its earnings from Europe, and despite missing on revenues, the stock is actually up in the pre-market. We wouldn't be surprised if it gives back those gains later, but this is an example of how hard it's been to trade this tape. 
We researched about a dozen stocks reporting after the close today or before the open tomorrow, and couldn't find one long or short candidate out of them we liked. No sense forcing anything in this market.
Today, we'll turn our attention to companies reporting after the close Wednesday. If we find anything promising to bet on or against, we'll send you an email if you're subscribed to our trading Substack/occasional email list. If you're not subscribed, you can do so below. 
If You Want To Stay In Touch
You can scan for optimal hedges for individual securities, find our current top ten names, and create hedged portfolios on our website. You can also follow Portfolio Armor on Twitter here, or become a free subscriber to our trading Substack using the link below (we're using that for our occasional emails now).
Contributor posts published on Zero Hedge do not necessarily represent the views and opinions of Zero Hedge, and are not selected, edited or screened by Zero Hedge editors.
Loading...