---
Americans Suffering Sharply Higher Levels Of Financial Anxiety
Authored by Bryan Jung via The Epoch Times,
Many Americans say they are suffering sharply from higher levels of financial anxiety as the economy takes a downturn.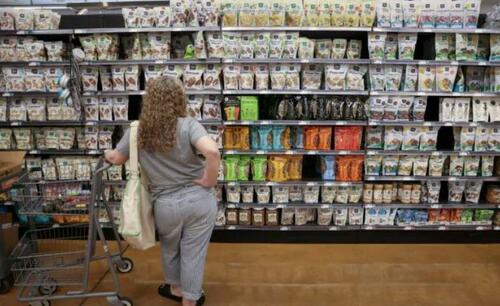 Money is now the prime cause of stress for most Americans, according to May 8 survey by Bankrate.
At least 52 percent of respondents reported that personal finances have had a negative impact on their mental health, a significant increase from 42 percent a year ago.
Fears over high inflation, rising interest rates, and a pending recession have filtered down into the everyday lives of millions of Americans still recovering from the disruptions caused by the pandemic lockdowns.
The American economy has been taking a hit over the past year, with many economists predicting that the situation will decline by the end of 2023.
"There are several sobering statistics in this report … with inflation at the center of many of these money worries. Despite a strong job market, wage growth has not kept pace with the rising cost of living. Debt has been rising and savings have been dwindling," said Ted Rossman, a Bankrate Senior Industry Analyst.
Twenty dollar bills are being counted. (Elise Amendola/AP Photo)
Economic Stress Worsens Early 2023
As financial worries take hold of American taxpayers, about 82 percent said that feelings of stress, anxiety, worrisome thoughts, loss of sleep, depression, etc., have been caused by economic factors.
The greatest cause of concern was inflation at 68 percent, followed by rising interest rates at 31 percent, and unstable finances or job security at 29 percent.
Inflation remains the greatest source of financial anxiety since last year, with analysts expecting a long-term negative impact on American consumers well after it reaches its peak, said Bankrate.
Meanwhile, respondents who said that their money fears have worsened over the past year was at 57 percent, while 47 percent admitted that paying for everyday expenses was the greater concern.
At the same time, 41 percent of those surveyed claimed they lacked enough emergency savings.
Almost all those who said that money occasionally impacted their mental health told surveyors that at least one of those three concerns has worsened over the past year.
Those Most Affected by Inflation
The survey noted that older Americans, women, and lower earners were more likely to point to rising prices as a cause for their money-related stress.
Seventy-nine percent of baby boomers and 68 percent of Gen Xers were more likely to cite inflation as a crisis.
This is compared to the 64 percent of millennials and 52 percent of Gen Zers who blame inflation for taking a toll on their mental health.
The fact that most Gen Xers are 10 to 20 years away from retirement is the main reason for concerns, Lindsay Bryan-Podvin, a financial therapist and author, told Bankrate.
She said that many in that age cohort are more than likely to be caring for their elderly parents and their families simultaneously.
"They're at this double whammy disadvantage of not just caring for themselves, but also often caring for children and their aging parents, and getting toward the later half of their earning years," said Bryan-Podvin.

"So of course, they're experiencing higher rates of financial anxiety," she explained.
Women are also more likely than men to have issues with rising prices, at 72 and 63 percent, respectively.
Lower-earning households, those with an annual household income below $50,000, are more likely than the higher-earning households with income above $100,000 to raise concerns, at 72 and 60 percent, respectively.
"Often lower income earners are working hourly wage jobs, which means that if they get sick or can't work, they're not getting paid. They might be putting expenses on a high-interest credit card," said Bryan-Podvin.

"The stakes are just literally so much higher because they don't have the financial cushion," she added.
[ZH: If only these miserable Americans just followed President Biden's tweets... they'd know just how lucky they were...]
This is what happens when you invest in America.

We have more work to do – but this is real progress. pic.twitter.com/Pur91mu3Pf

— President Biden (@POTUS) May 5, 2023
Loading...