---
Conference Board Confidence Soars To 2-Year Highs, Inflation-Expectations Plunge
American consumers' confidence was expected to extend its recent rebound in this morning's Conference Board survey and it did - bigly!
The Conference Board's Consumer Confidence headline print jumped to 109.7 from 102.5 (far above its 104 exp) - the highest since July 2021. Under the hood, both the Present situation (rose to 160.0 from 155.3 in June) and Expectations index (rose to 88.3 from revised 80 in June) jumped with Present situation at its highest since the COVID lockdowns...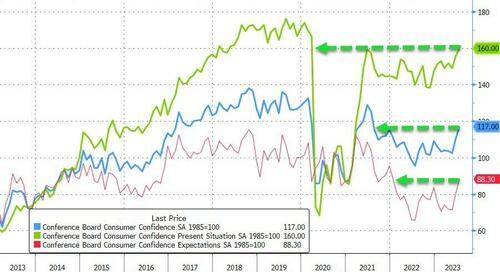 Source: Bloomberg
Despite rising interest rates, consumers are more upbeat, likely reflecting lower inflation and a tight labor market. Although consumers are less convinced of a recession ahead, we still anticipate one likely before year-end.
"Consumer confidence rose in July 2023 to its highest level since July 2021, reflecting pops in both current conditions and expectations," said Dana Peterson, Chief Economist at The Conference Board.

"Headline confidence appears to have broken out of the sideways trend that prevailed for much of the last year. Greater confidence was evident across all age groups, and among both consumers earning incomes less than $50,000 and those making more than $100,000."
Meanwhile, June's results show consumer inflation expectations over the next 12 months dropped to 5.70% - its lowest since Oct 2020...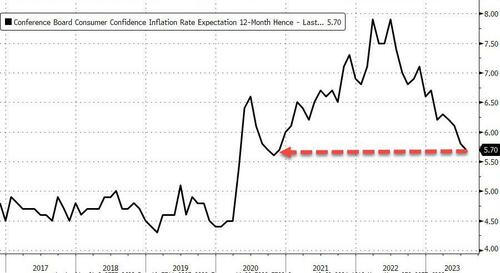 Source: Bloomberg
The Conference Board's measure of labor market tightness eased slightly more last month (more jobs plentiful vs hard-to-get)...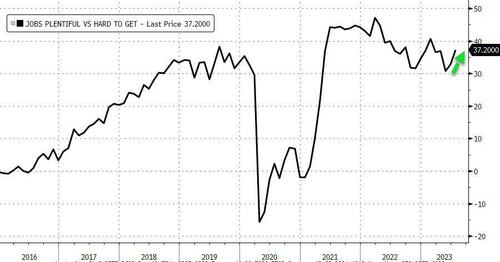 Source: Bloomberg
When asked about current family financial conditions (a measure not included in calculating the Present Situation Index), the share of respondents citing a 'good' situation rose, and those citing 'bad' conditions fell, signaling still-healthy family finances. This might reflect softening inflation and continued income support from employment.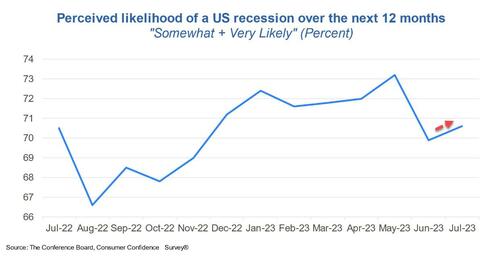 However, "The proportion of consumers saying recession is "somewhat" or "very likely" to occur ticked up in July, contrary to the Expectations Index spiking this month above the threshold of 80. Still, recession expectations remained below their recent peak, suggesting fears of a recession have eased relative to earlier this year.
Loading...