---
The Cost Of Soup Is About To Soar Even Higher; Thank President Biden
Authored by Mike Shedlock via MishTalk.com,
President Biden accuses China, Germany, and Canada of dumping steel used to package canned goods. The result will be higher prices for everything canned including soup, sauces, and vegetables.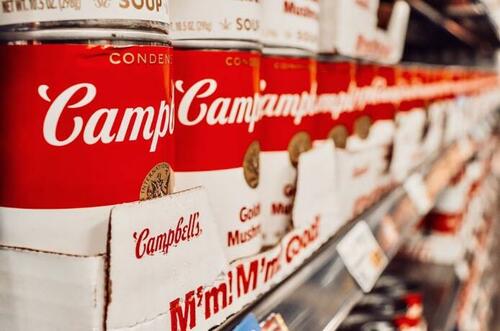 New Tariffs on Food-Can Metal From China, Germany and Canada
Please expect the price of all canned goods to rise due to New Tariffs on Food-Can Metal From China, Germany and Canada.
The Biden administration on Thursday announced new tariffs on can-making metal imported from China, Germany and Canada, a move that food companies say could lead to higher prices for some canned foods.

Chinese products would be subject to the highest tariffs of the three countries—a levy of 122.52% of their import value. That rate partly reflects Chinese companies' refusal to cooperate with the investigation to prove their independence from the Chinese Communist Party, an administration official said.

The Consumer Brands Association, a trade group representing companies such as Campbell Soup and Fresh Del Monte Produce, estimated new tariffs, if applied aggressively, could raise the prices of canned food by up to 30%.
[ZH: It's not like the price of Campbell's Soup is not exploding higher already...]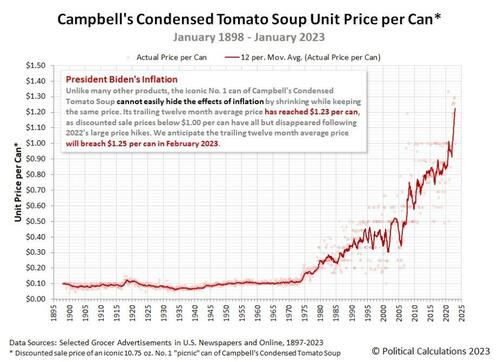 Source: Political Calculations
Assume for a minute that China, Germany, and Canada are dumping soup cans in the US.
What's the Correct Response?
Complain

Increase tariffs

Cheer
The answer, of course, is number three. If China, Germany, and Canada are indeed dumping steel bellow cost, then the nations are giving US consumers a break at their expense.
Moreover, I assure you, not a single job will return to the US as a result. US steel corporations are not about to go on a hiring spree to produce more soup cans. The only thing that will happen is the cost of all canned goods will rise.
Solar Panels
The same applies to solar panels, but even more so. Solar panels are one aspect of clean energy that makes sense at the right price. But the US has stiff tariffs making sure the price is not right. Instead of doing something for the environment, solar panels are just to expensive.
If instead we allowed cheap panels from wherever, we would create thousands of jobs installing them, trucking them, wiring homes for them, and putting in the needed battery systems.
All of that economic activity does not take place because of US tariffs. Some companies learned way to way to skirt the tariffs, but Biden is after them too.
US Slaps New tariffs on Solar Panel Companies
Please consider US Slaps Tariffs on Solar Panel Companies Dodging China Duties.
The United States on Friday will finalize a decision to impose import duties on solar panel makers who finished their products in Southeast Asian nations to avoid tariffs on Chinese-made goods, according to a senior Commerce Department official.

The Commerce probe found that units of Chinese companies BYD, Trina Solar, Longi Green Energy and Canadian Solar were dodging US tariffs on Chinese solar cells and panels by conducting minor processing to finish their products in Cambodia, Malaysia, Thailand and Vietnam before shipping them to the US market.

Other companies operating in those nations have the ability to pursue a certification process to show that they are not circumventing tariffs. To become certified, solar cells and panels must contain non-Chinese wafers and three other key components.
Unintended Consequences
NPR confirms my take on solar panel use.
The Commerce Department's investigation began in March 2022 in response to a complaint from a small U.S. manufacturer, Auxin Solar. It has been a major source of friction inside President Biden's administration.

The department's inquiry contributed to a major drop in solar installation forecasts, according to the Solar Energy Industries Association, as installers worried that their projects would become cost-prohibitive if the government imposed retroactive taxes or if the cost of future purchases increased.

"Worst-case scenario, you can think about retroactive tariffs of up to 240%," Leo Azevedo, a solar procurement manager, told NPR in May 2022. "There's just too much risk to order panels right now and that's just the end of it."

"The U.S. Department of Commerce is out of step with the administration's clean energy goals, and we fundamentally disagree with their decision," said Abigail Ross Hopper, head of the Solar Energy Industries Association. "It will take at least three to five years to ramp up domestic solar manufacturing capacity and the global supply chain will be vital in the short-term."
Auxin Solar
This solar panel mess all started with Auxin Solar. Please consider A look at the mysterious company causing a big trade mess.
Auxin Solar, the tiny company whose trade petition is rattling the whole U.S. solar industry, produces solar panels of questionable quality in volumes that appear to be lower than claimed, sources tell Canary Media.

I have spoken with a solar installer who has used Auxin panels, examined data on deployment of those panels in key U.S. markets, and again visited the site of Auxin's sole factory, camera in hand. Here's what I've learned about this little company that's causing a big ruckus.

Northern California solar installer Barry Cinnamon of Cinnamon Energy Systems was previously an Auxin customer — but not a happy one.

"They were our [original equipment] manufacturer at one point. Their quality was terrible," he told Canary Media. There were ​"many module failures from their own manufacturing, and we were unable to get any warranty service. Broken glass, half output of panels, burn marks on the back. They sourced almost all of their components from overseas, some likely from China."

As we've said before, import tariffs are a blunt instrument and have a track record littered with unintended consequences. Trump-era tariffs on Chinese modules (which the Biden administration opted to extend) have contributed to the U.S. having some of the world's highest utility-scale solar costs, and there's little evidence that the tariffs have ​"leveled the playing field" in any meaningful way or spurred domestic panel production.
Bottom Line is More Inflation
Not only does Biden demand more clean energy, he also demands consumers pay the maximum amount for it, despite that being counterproductive to the main goal.
Yesterday I commented Yet Another Biden Regulation Will Increase Costs and Promote More Inflation
My post yesterday involved a new Biden regulation that will increase the price of all government projects. Click on the link for details.
Today we can add solar panels and soup to the list.
*  *  *
Loading...