---
Fed's Favorite Inflation Indicator Tumbled In June, But Wage Growth Reaccelerated
One of The Fed's favorite inflation indicators - Core PCE Deflator - slowed dramatically from +4.6% to +4.1% YoY in Jue (slightly cooler than the 4.2% exp ). Headline PCE fell back to +3.00% (from +3.8%) for the first time since March 2021...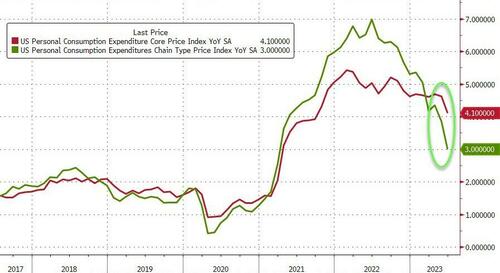 Source: Bloomberg
Even more focused, is the Fed's view on Services inflation ex-Shelter, and the PCE-equivalent shows that is very much stuck at high levels, although it slipped to the lower end of its sticky range...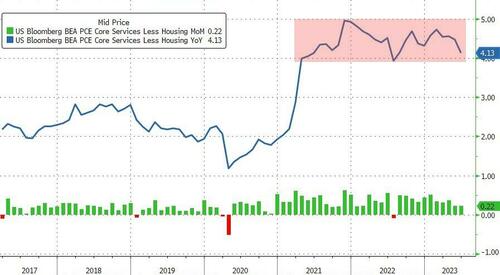 Source: Bloomberg
However, as The SF Fed's data shows, the acyclical portion of inflation remains uncomfortably high, even as the cyclical portion has reverted lower...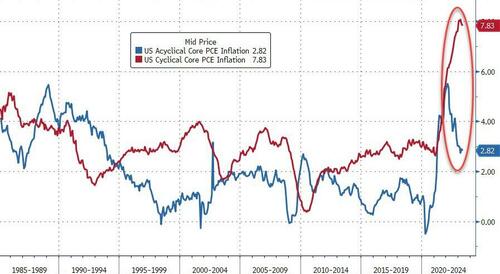 Source: Bloomberg
Americans' incomes rose 0.3% MoM (weaker than the expected 0.5% rise), while spending outpaced incomes (rising 0.5% MoM, better than the 0.1% expected)...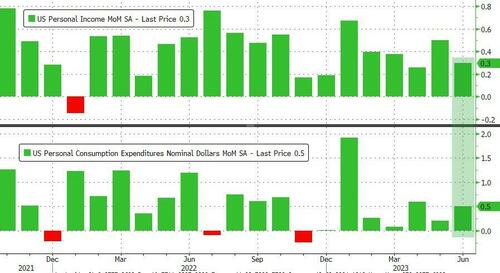 Source: Bloomberg
On a YoY basis, income and spending growth have almost converged...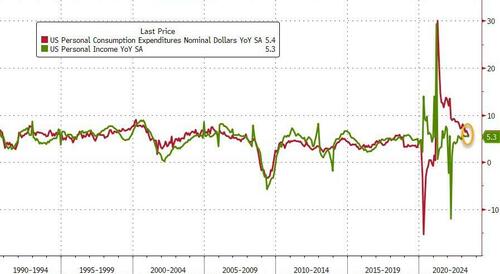 Source: Bloomberg
Adjusted for inflation, 'real' personal spending was up for the 3rd straight month in June (up 2.4% YoY)...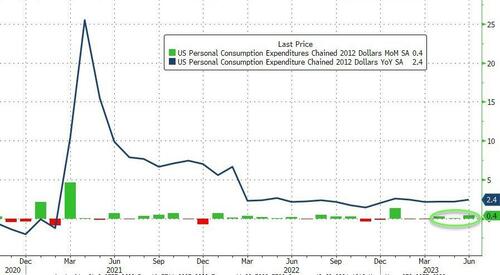 Source: Bloomberg
All of which means the savings rate slowed in June, back to 4.3% of disposable income - the lowest since January after revisions...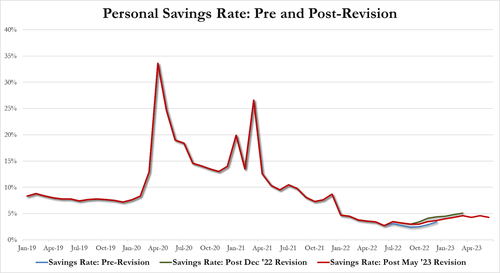 Perhaps most problematically (for The Fed), wages rose for 4th month in a row:
June Private wages and salaries +5.9%, up from 5.8%, and the highest since Oct 2022

June Govt worker wages and salaries +6.4%, up from 5.8% and the highest since Oct 21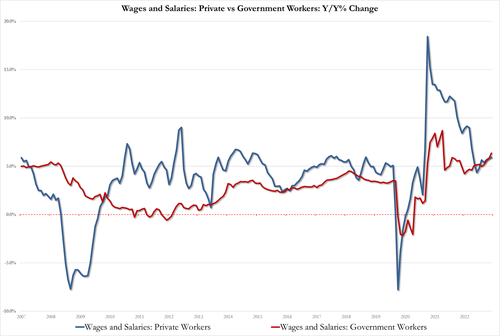 Will this stoke the next leg higher in inflation?
Loading...