---
Huge Gasoline Price Drop Sparks Biggest US PPI Plunge Since COVID Lockdowns
After four months of re-acceleration, US producer prices tumbled in October - down 0.5% MoM, the biggest drop since April 2020. This dragged Final Demand PPI YoY down to 1.3%...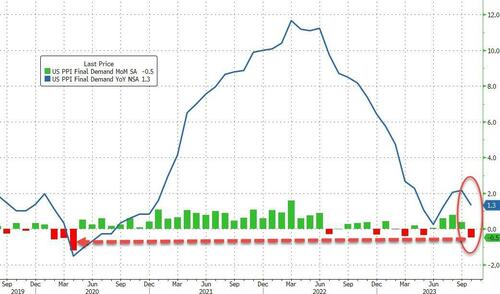 The sharp slowdown was largely reflective of a decline in gasoline prices, as excluding food and energy, the so-called core PPI was unchanged (and the smallest annual increase since the start of 2021).
Over 80% of the decrease in goods prices was due to a 15.3% slump in the cost of gasoline, the government report.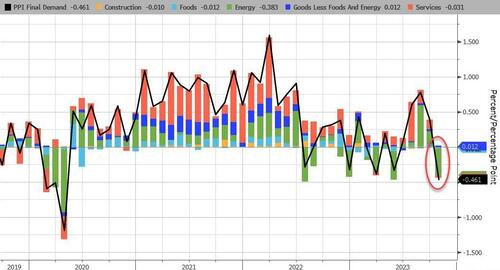 Services costs, meanwhile, were flat after rising six straight months.
 Excluding food and energy, the core PPI was unchanged, and rose 2.4% YoY - the smallest increase since the start of 2021; both numbers also came below consensus estimates of 0.3% and 2.7%, respectively.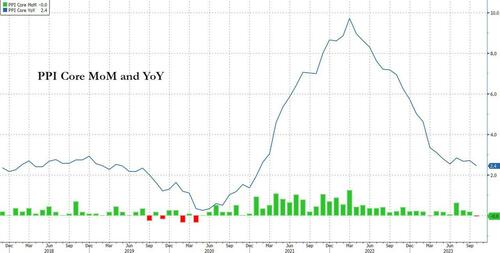 There was some more good news: intermediate PPI, widely seen as a leading indicator to final PPI, resumed its decline and after rising to -3.8% in September from a cycle low of -9.2% in June, the series resumed its downward trend largely thanks to commodity price weakness, dragging the intermediate PPI number to -4.4%.
Source: Bloomberg
Finally, the much-watched portfolio-management segment saw deflation last month (as stock market prices declined) BUT deposit services exploded higher (flight to safety?)...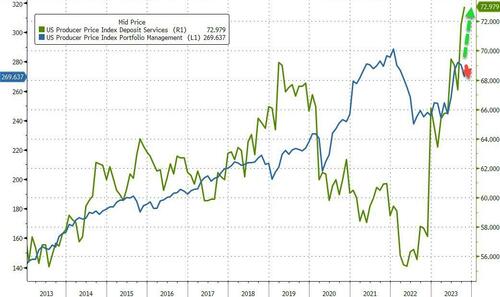 Bottom line: while services is the key driver of core PPI, the swing factor continues to be commodity prices, which in turn depend on how much stimulus China decides on, how much oil OPEC+ will pump and how much crude Biden will quietly dump to keep gas prices low into the election year.
Loading...