---
Media Lies About 'Bidenomics'
Authored by Steve Cortes via American Greatness,
Corporate Media really REALLY wants you to pretend that the Biden economy is just great. Of course, the legacy media complex serves as a public relations arm of the Biden White House specifically, and the Ruling Class generally.
But this new propaganda campaign on the economy fails miserably, because Americans grasp far too well the harsh reality of their own financial status and outlook. Nevertheless, Joe Biden decided to adopt the term Bidenomics in a June speech.
That term of derision has been widely used by populists to assail the failings of Biden's economy, especially the record two-year stretch of plunging real wages, meaning pay adjusted for the costs of goods and services.
Biased Media
Since Biden embraced that term, media watchdog group MRC tracked mentions on CNN. A whopping 79% of the reports were positive, with such glowing praise for the economy as "a lot to be proud of." Over at MSNBC, a similar story. On "Morning Joe," the "Reverend" Al Sharpton claimed that Biden "clearly is doing his job. Look at what he's done to the economy."
Woe to any viewer accepting economic advice or analysis from Sharpton. For that matter, perhaps skip his spiritual counsel as well, since the so-called "reverend" was "ordained" at the age of 10.
Regardless, here is the on-the-ground reality of the U.S. economy under Biden, using data and evidence, with citations and charts.
Unlike the corporate media, we patriotic populists must assess the economy through a dispassionate lens, identify the key problems, and then propose workable solutions, especially into the 2024 election season. We did not make this mess, but we must rise to the task of fixing it, anyway.
How bad is the economy?
Well, a staggering 88% of Americans report that their personal financial situation is wither falling behind, or holding steady, per Fox News polling. This malaise largely flows from inflation, fueled by Biden's exorbitant borrowing and spending. Shockingly, only 16% of Americans say that their wages can keep pace with key prices galloping higher, according to Investors Business Daily's survey.
This pessimism is based in reality, as shown by key Main Street metrics.
Main Street Reality
The National Federation of Independent Business has surveyed small business entrepreneurs and owners for almost five decades. The long-term average for that poll on small business optimism is 98. The most recent read for NFIB was a dreadful 91, a minor bounce from the depths of recent months – but still lingering near the decade low print of 89 from this Spring. For context, small businesses now are as worried as they were during the worst days of the Spring 2020 lockdowns.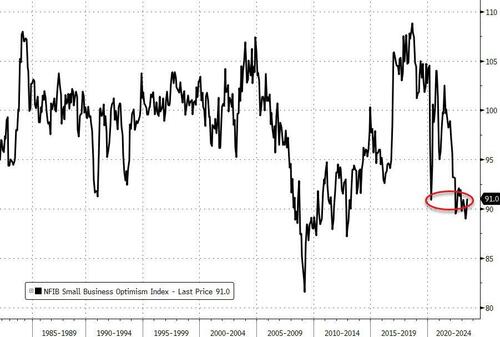 Many small businesses are consumer-facing, the mom-and-pop stores and restaurants that comprise a key social and economic fabric of communities. Sadly, for these operators, Bidenomics crushes consumer sentiment and shrinks the discretionary budget of most households.
As a result, see this chart (below) on the massive breakdown in the widely watched Redbook Retail activity index, which just went negative. As the chart displays, the only other negative reads were during the Great Recession of 2008-09, and during the Covid lockdowns.
That retail pain will likely persist, taking a look further back in the supply chain. Specifically, at the wholesale level, the shipping of goods falls off a cliff, as evidenced by the LMI Logistics Index. This chart tracks demand for both warehousing and transportation, especially trucking.
It just hit an all-time low and has plunged downward for a record six months in a row. Such a move portends very poorly for the Christmas shopping season, because a lot of those advance orders typically begin shipping now.
Loading...