---
"More Like A Train Wreck Than A Soft Landing" - Dallas Fed Services Sector Survey Slumps In October
Growth in Texas service sector activity stalled in October, according to business executives responding to the Texas Service Sector Outlook Survey.
The revenue index, a key measure of state service sector conditions, fell eight points to 0.7, with the near-zero reading suggesting little change in activity from September.
Perceptions of broader business conditions continued to worsen in October, as pessimism notably increased.
The general business activity index dropped from -8.6 to -18.2, its lowest level since December of last year, while the company outlook index fell to -12.8, its lowest level in 16 months. The outlook uncertainty index jumped from 14.8 to 23.0.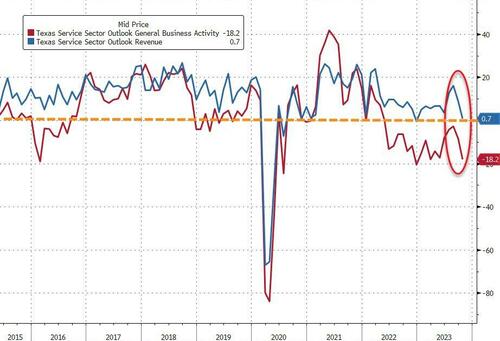 Source: Bloomberg
Labor market indicators pointed to no growth in employment and a largely stable workweek. The employment index fell from 2.7 to 0.1, its lowest level in seven months. The part-time employment index fell five points to -3.4, while the hours worked index declined from 3.0 to -1.3.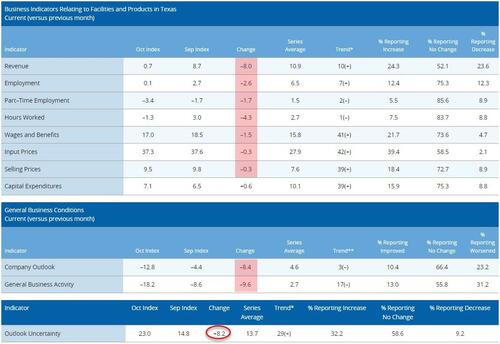 All-in-all, a shitshow.
The comments from respondents were mixed with some seeing growth or hoping for it, but the following quotes should clarify just how most feel...
Overall activity is still stagnant due to overall economic conditions, uncertainty and interest rates.

Financial challenges remain. Access to capital will continue to limit growth in some sectors. Cash management has taken on a whole new meaning.

The economy seems to be steeply going down in the US and major global regions we serve, Europe, China and Asia.

For our engineering services, 2024 is projected to be a recession year.

The commercial real estate market really seems frozen in some ways. Financing is hard and deals don't pencil at these rates.

We have seen our restaurant business suffer as some of our long-term customers have shut down facilities.

We are seeing an abnormal decrease in overall business activity that started in September and has continued into October.

People are nervous and not spending money, like in early spring. They are making choices, and we can see them holding back.

The downstream effects of overspending and the ripple effect to interest rates and inflation are having a negative impact on business. Decisions from prospects for new purchases are delayed, and current customers' budgets are under intense scrutiny to continue purchases.

The geopolitical climate has increased uncertainty for the economy. Liquidity continues to be challenging. Interest expense is the single major expense facing lenders and borrowers.

Rapid increases in interest rates have frozen debt markets, meaning we cannot refinance properties. We are feeling the pain.

Something must give. Interest rates, a tightening of capital access, increasing geopolitical turmoil and more all add up to problematic conditions.

People are stuck where they are, not buying cars, houses, appliances, etc.

Headwinds are mounting. Interest expense due to floating rate credit, continuing increases in both labor and input costs, unsustainable construction costs and a softening economy are finally going to bring growth to a halt and likely result in a step back in GDP.

We are starting to see meaningful decreases in consumer spending.

We are hearing more businesses are having problems.
Finally, there was this comment that seemed to sum things up very well...
The general level of activity in the real estate market continues to slow while the 10-year rate continues to climb.

Higher interest rates have stifled this market, and we are afraid the worst is yet to come. Refinancing existing debt will be challenging due to the 500-600-basis-point increase in rates and the fact that regional banks are not lending. Most owners will not have the additional equity required to refinance their debt.

On the purchase and sale side of the market, we still have a re-pricing issue that needs to be resolved between sellers and buyers before assets can trade.

We are all trying to find something positive in this marketplace, but it is just not there.

This is looking more and more like a train wreck instead of a soft landing.
But, but, but Bidenomics?
Loading...