---
Oakland Eviction Moratorium Set To End Today
Authored by Dylan Morgan via The Epoch Times,
The Oakland City Council approved a proposal on April 18 that will end Oakland's COVID-19 eviction moratorium on July 15.
The moratorium was put in place in March 2020 and protected tenants from evictions due to COVID-related rent debt. With the end of the moratorium, Oakland landlords will regain the power to evict tenants if they have just cause.
Oakland was one of the last cities in the Bay Area to have the COVID-19 moratorium still in place.
The April 18 council meeting lasted eight hours and resulted in a 7–1 vote. Noel Gallo was the only member of the council to vote against this proposal, as he wanted the moratorium to be removed on May 31, but ultimately his proposed amendment didn't gain much traction.
The proposal that was approved was introduced by Council President Nikki Fortunato Bas and Councilmember Dan Kalb and is a revised version of a proposal they introduced in March. Ms. Bas and Mr. Kalb sought to gradually remove the moratorium in September and have landlords prove that lease-violating tenants "caused substantial actual damage."
However, lobbying from landlords culminated in a compromise and the proposal.
Mr. Kalb stated at the April 18 meeting, "I won't say I'm thrilled with all the modifications, but part of the legislative process is the art of compromise in a fair fashion, as long as you still have a good end product."
Additionally, the proposal enacted new tenant protections to prevent a wave of evictions following the moratorium. This includes forbidding landlords from evicting tenants who owe less than a month of "fair market rent," as defined by the federal government, and unpaid rent that took place during the moratorium, so long as the tenant can prove that it was a result of the pandemic.
For a landlord to evict a tenant for violating the lease, the terms of the lease must be shown to be reasonable, with the tenant agreeing to them in writing.
The proposal will also end the city's moratorium on rent increases on July 1, 2024.
This decision was the climax of weeks of protesting from landlords and tenants in an attempt to sway the decision in their favor. Landlords have been speaking out against the moratorium for a while now.
A few months ago, local property owner George Wu began a hunger strike.
According to The East Bay Times, Mr. Wu owns a triplex in San Leandro. He said the policy led to some renters falling behind on payments and to him accumulating $120,000 in debt.
While protesting, he displayed signs that read, "Need rent to feed my family," "My son needs tuition fee," and "Eviction moratorium kills housing," among other things.
He told The East Bay Times he plans to protest at least a month or two, or even until death.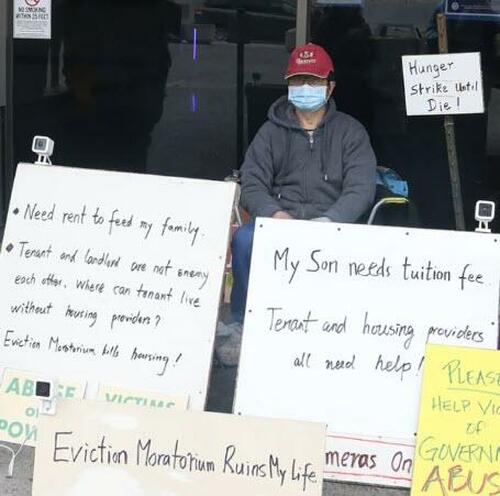 Mr. Wu told The Epoch Times:
"We landlords have it difficult too. Our wealth comes from our painstaking labor. I'm not against the government protecting tenants, but the government needs to find the middle ground. They need to come up with a better policy and protect us landlords. This way it would be a fair policy."
Oakland resident Seneca Scott sympathized with Mr. Wu and told The Epoch Times: "[The moratoriums] are theft, it is abuse of power, they are stealing our homes, and they have enabled people to not pay rent for three years. This moral hazard is the fault of the county and city. They have passed these laws; they have allowed people to steal from hardworking Americans."
Property owner Phyllis Horneman told The Epoch Times: "We have provided housing for low-income people for 50 years. This is the end. If this eviction moratorium doesn't go away, we won't re-rent because the next person will move in and just not pay the rent. And we can't afford that. I mean, we're getting pretty old here."
In March 2022, the Housing Providers of America, a coalition of landlords, sued Alameda County and Oakland to end the eviction moratorium.
However, tenants view the moratorium much less favorably.
According to the San Francisco Chronicle, one member of the Oakland Tenants Union said, "I don't know if any of you have ever received an eviction notice, but until you do it is really hard to appreciate the sheer terror you'll feel."
The Chronicle quoted another resident as saying, "Our lives should be worth more than somebody else's profit."
The Chronicle reported that Attorney Leah Simon-Weisberg, with Alliance of Californians for Community Empowerment Institute, a pro-tenants rights organization, believes this legislation possesses necessary tenant protections that will help with the transition of removing the moratorium. However, she is worried about "frivolous" evictions where tenants could be breached over minor offenses, and she said that she and other tenant advocates have been urging councilmembers to add plausible protections to put an end to this, the Chronicle stated.
Loading...