---
"Our Industry Is In A Technical Recession" - Dallas Fed Manufacturing Production Hits New Lows As Prices Spike
Texas factory activity contracted again in August, according to The Dallas Fed's Manufacturing Survey, with the production index tumbling 6pts to -11.2. That is the lowest (ex-COVID lockdowns) since May 2016...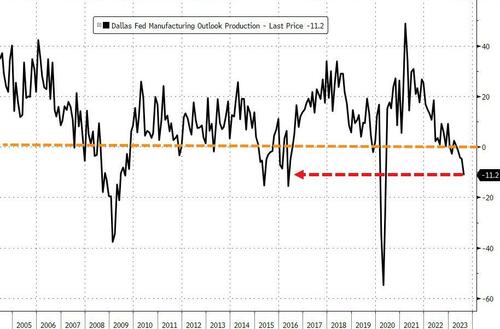 Source: Bloomberg
Under the hood, the picture is just as ugly with new orders contracting (for more than a year), capacity utilization down, shipments tumbling, and capex down a 3 year low.
There were two line items that surged higher - Prices Paid for Raw Materials and Wage Growth - but labor market measures suggest slower growth in employment and shorter workweeks in August; and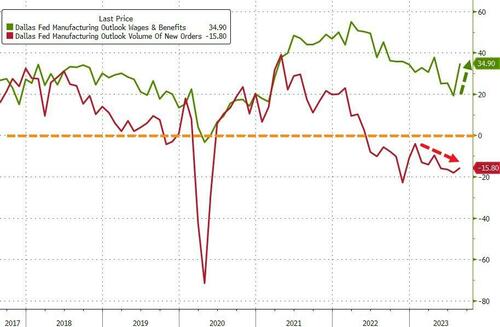 Source: Bloomberg
Respondents comments say a lot about 'Bidenomics':
Chemical manufacturing

The chemical industry remains slow.

Computer and electronic product manufacturing

High interest rates are affecting industrial production like never before. In addition to reshoring heavy activity, supply-chain issues, lack of qualified labor and interest rates have placed an inverted incentive to grow due to a major slowdown in capital equipment expenditures. This is the time to stop raising interest rates and give confidence to the industrial segments to plan growth. Rehiring after major layoffs in this industry is not like in the consumer industry. It is costly, laborious and a long-term expedition. And with the lack of reforms in immigration and education, we are encountering major difficulties in running industrial operations. Never mind the demographics issue the U.S. is about to encounter in the short run. I think it is time for the Federal Reserve to take a creative approach when it comes to interest rate management.

For the first time in a long time, we are seeing customers reduce or cancel orders due to softening end-use demand. We expect this trend to continue over the next few months. We continue to make capital investments, focusing on buying high-quality used manufacturing equipment at a discount when other people are pulling back because of uncertainty.

Customer orders came to a sudden halt. The overall volume dropped 51 percent year over year.

Food manufacturing

We have seen a contraction in government contracts. Customer discretionary spending capability has decreased.

Machinery manufacturing

The phone is not ringing. Our sales team is working harder with less results. Projects are being postponed and, perhaps even more telling, payments are increasingly protracted.

Business is slowing down, but we are adding new products to produce. This should be positive for our business long term.

Primary metal manufacturing

Our industry is in a technical recession. In addition to that, foreign imports are at a very high percentage if not the highest in our history.
Finally, given all those comments, it is not surprising that the future general business activity index returned to negative territory after pushing positive last month, coming in at -3.3.
Loading...