---
Texas Services Sector Survey Signals 12th Straight Month Of Contraction
For the 12th straight month, The Dallas Fed Services Outlook Survey printed negative in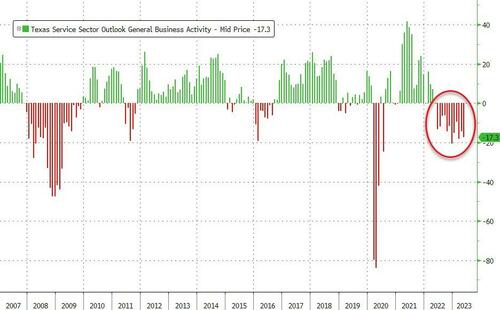 Source: Bloomberg
Perceptions of broader business conditions continued to worsen in May. The general business activity index remained negative and fell three points to -17.3. The company outlook index remained the same at -9.5, while the outlook uncertainty index was flat at 15.8—close to its series average of 13.6.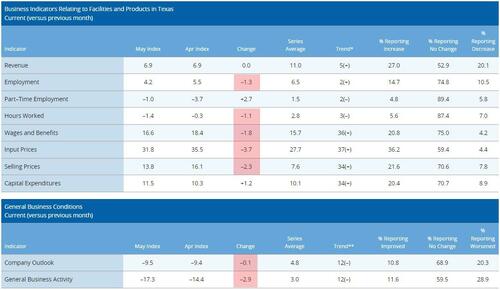 Respondents were more mixed but all noted issues with hiring and inflation
Congressional inaction on raising the debt limit is disconcerting to clients, which impacts the prospects of utilizing our services.

[There is] increased uncertainty and stress due to the lack of qualified workers to meet growing demand. [There are] enough disruptions and remote work; we need the stability of an in-office workforce to manage productivity and work ethic.

Our clients are continuing to delay decisions to work with us.

Businesses are preparing for a recession by looking for ways to cut back, which in some ways, works to create a self-fulfilling prophecy.

Inflation has really been a concern for us and our vendors. It's becoming very difficult to absorb the increase in prices at every level.

We are seeing a noticeable slowdown in the level of business activity in our manufacturing industry clients, especially in the consumer goods and auto-industry-related companies.

Our two main challenges have been employee related and the increasing cost of technology.

The banking crisis and compounding impact of the high cost of capital, general commercial uncertainty and consumer spending fluctuations are culminating to place heavy pressure on our business, which has moved us to lay off hundreds of employees this year.

We are seeing signs of slower consumer spending at restaurants, and our sales have been slowing since March.

Interest rates have killed business along with high inflation.
But...
Despite talk of recession and economic downtown, there is no apparent evidence of such.
Finally, the survey also notes that retail sales declined in May, according to business executives responding to the Texas Retail Outlook Survey. The sales index, a key measure of state retail activity, fell six points to -3.2.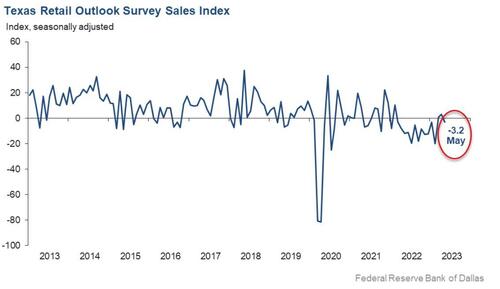 But of course, there's no recession in AI, right?
Loading...