---
UK Inflation Tumbles To 2-Year-Low As Energy Prices Plunge
Hot on the heels of the cooler than expected US CPI print yesterday, UK inflation tumbled to the lowest level in two years, raising expectations that the Bank of England could cut rates by mid-2024.
Thanks to a tumble in energy prices - just like in the US - UK consumer prices rose 4.6% from a year earlier in October (below the 4.7% exp), down sharply from 6.7% in September and the slowest pace since 2021.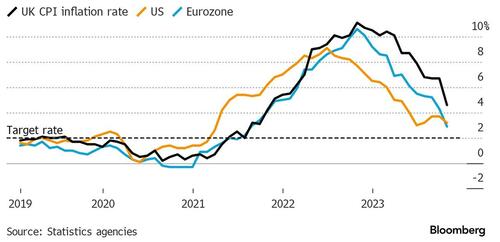 This month's reading marked the biggest drop since 1992, when inflation plunged from 7.1% to 4.7% as a boost to prices a year earlier fell out of the annual comparison. The surge in prices stemmed from then-Chancellor Norman Lamont's 1991 budget, which included an increase in VAT and numerous duties.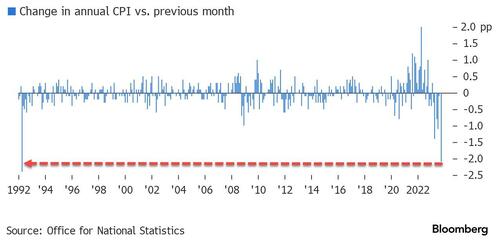 A larger-than-expected slowing in sequential services inflation also helped drag CPI lower...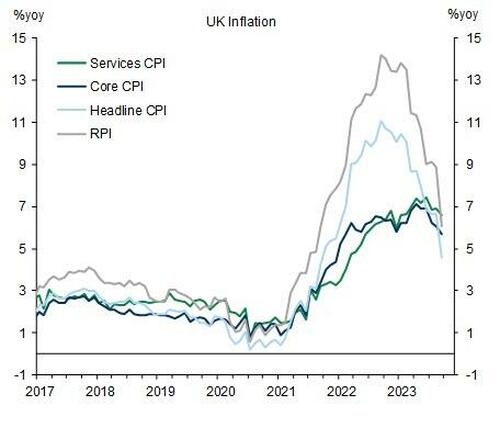 'Good' news, right? Well yes, but we do note that a significant part of this slowdown was driven by volatile components such as airfares and accommodation.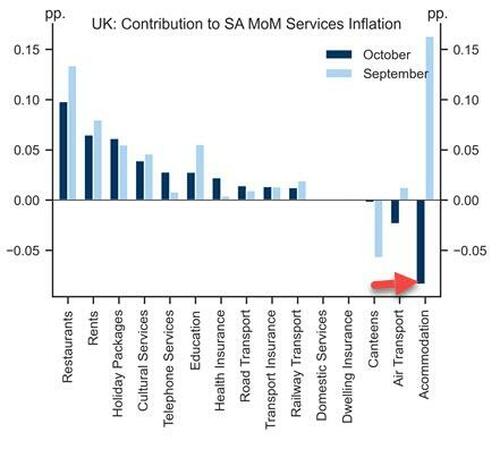 Additionally, CPI's drop was exacerbated by a decline in the Ofgem price cap for household energy bills.
Food, alcohol, and tobacco inflation declined meaningfully to 0.16% from 0.48% in September, below the 0.99% and 0.43% average pace observed in Q2 and Q3, respectively.

Energy inflation declined to -3.26% from 1.62% in September, below the -1.12% and -2.19% average pace observed in Q2 and Q3, respectively.
Finally, as Goldman notes, taken together with yesterday's labour market report, which showed the unemployment rate printing in line with the MPC's expectation and private sector regular pay growth surprising the MPC's projection to the downside, expectations are rising that the BoE will remain on hold at its upcoming December meeting.
However, Inflation remains more than double the BOE's 2% target and policymakers have warned that the "last mile" would be 'the hardest. The central bank and outside economists forecast don't forecast a return to the target level until 2025.
"Today's data are unlikely to shift the dial for the Bank of England, with interest rates expected to remain at their current level until the second half of next year," said Yael Selfin, chief economist at KPMG UK. "While the drop in inflation will be welcomed by households, it is not in itself a signal of sustained inflationary easing but rather reflects the lagged impact of the fall in wholesale gas prices feeding through to energy bills."
Loading...